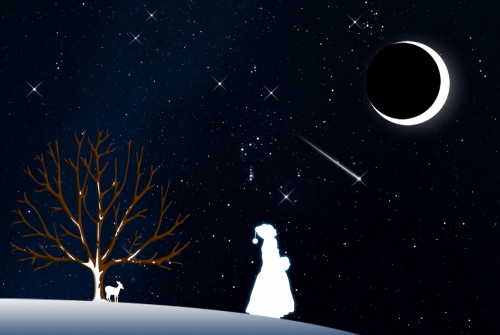 Stargazing Nights - Valentines Day
Where:

Frosty Drew Observatory

When:

Fri, Feb 14, 2020 7:00 pm - 10:00 pm

Cost:

$5 Suggested Donation per person 5 years and older
Tonight at Frosty Drew Observatory, we will host our Valentines Day Stargazing event. Which is really just a regular Stargazing Nights event that happens to fall on Valentines Day. But still, what a fantastic way to celebrate your favorite person! Forecasts are calling for clear skies and cold temps tonight. The 64% waning gibbous Moon will not rise until 11:57 pm, which will open the sky up for super dark views, putting hundreds of dim objects within our view.
We will open the Observatory, Sky Theatre, and Science Center at 7:00 pm. In the Observatory, telescopes will start off with views Venus, which will sport a 69% waning gibbous phase. Once Venus drops too low over the western horizon, we will direct our telescopes towards the fabulous Orion Nebula. As the night progresses we will move along our impressive list of cosmic awesomeness including the Messier 46 open star cluster, Messier 41 open star cluster, the carbon star R-Lepus, NGC 2392 – a young white dwarf, the Ghost of Jupiter, NGC 2359 – a Wolf-Rayet star, Hubble's Variable Nebula, Comet T2 PanSTARRS, and more. Additionally, we will attempt an early view at some of the fabulous galaxies that reside with us in the Virgo SuperCluster including Messier 95, Messier 96, the Leo Triplet, Messier 51, Messier 63, Messier 106, and potentially more. In the Sky Theatre temps will be warm and on screen we will show our regular feature of celestial objects photographed at Frosty Drew Observatory. In the Science Center we'll continue to show the works of Frosty Drew astronomers on gallery. We will stay open until 10:00 pm.
Overall, tonight is certainly the night to be out! We can expect clear skies all night long, and no Moon present until the 11:57 pm rise. Conditions like this will allow for us to celebrate how amazingly dark our venue is, where thousands of stars become visible. It will be quite cold tonight with wind chills starting off in the low teens and dropping well into the single digits, so dressing properly is extremely important! We wrote a primer about how the team at Frosty Drew dresses on the cold New England winter nights. Read it and follow it. Then head out to Frosty Drew Observatory with (or without) your special person and celebrate each other (or just your fabulous self) under thousands of stars.
-----------------------------
Weekly Happenings
Scott MacNeill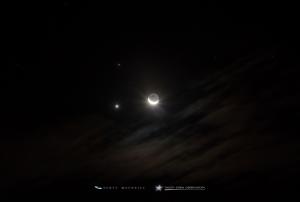 Gear up for a year of fantastic views of the planets, because 2020 will be the year of many stunning planetary conjunctions. As a result of Earth's orbit and the orbits of the other planets in the Solar System, we periodically see planets appear quite close to each other in the night sky. To be slightly more precise, this is because all the primary planets orbit along the plane of the Solar System, the ecliptic, and each planet has a different orbital circumference as well as eccentricity (deviation from perfect circle). Planets closer to the Sun than Earth are visible only during sunset and sunrise, while planets more distant from the Sun than Earth, are visible anytime from sunset to sunrise, varying. In 2020, the big deal will be the return of Mars to the night sky, as well as Jupiter and Saturn closing in on each other from our point of view, eventually passing each other on December 21, 2020. In the first half of the year, Mars will visibly pass Saturn and Jupiter in the sky, making for a stunning view of the three bright planets together. At times the Moon will join the party. The first of this roughly year-long event, will occur on Tuesday morning, February 18, 2020. About 1 hour before sunrise, Saturn, Jupiter, Mars, and the 24% waning crescent Moon will all be within a 25° area of the sky, with the Moon and Mars sitting at less than 1° apart. Eventually the Moon will occult (overtake and pass over) Mars at 7:40 am EST. The real party begins on the morning of March 7, 2020, when Saturn, Jupiter, and Mars will all be near-equally spaced over an area of 15°, with each passing night showing Mars approaching closer and closer to the pair. The 30% waning crescent Moon will join the party on March 18th, forming a stunning conjunction with Mars and Jupiter. On March 20th, Mars will visibly pass within 0.25° of Jupiter. On March 26th, All three planets will be equally spaced over an area of 6°. On March 31st, Mars will visibly approach within 0.5° of Saturn. Put these dates and the dates around them in your calendar and celebrate a year of planetary conjunctions.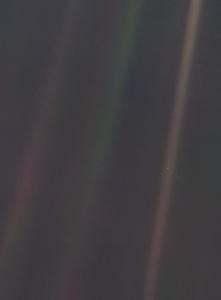 On this day 30 years ago (February 14, 1990) NASA's Voyager 1 spacecraft, which was 3.7 billion miles from Earth, looked back towards home and took a picture of Earth. This maneuver was not part of the Voyager 1 mission list of objectives, and the result did not pose much scientific value. Though astronomer, Carl Sagan, requested this procedure for its existential value – a perspective of humanity from a cosmic point of view. The result is known as the Pale Blue Dot, and became one of the most inspiring and humbling images of space. Over the following years, Carl Sagan would write a narrative for this image of Earth that would challenge so many people's view of humanity, including my own. I grew up learning about humanity's superiority and importance, that humans, by existence, were infinity special, and that everything else existed to benefit humanity. In this image of Earth, taken from the distance of Neptune, you cannot tell that humans even exist, there is no sign whatsoever of our entire history. The knowledge that every human being who ever existed lived on the tiny spec captured in that photo, truly humbled me and demanded that I rethink all of my misconceptions about humanity. This is when I started to perceive humanity and Earth as part of something so much bigger. The idea that we are all part of a huge cosmic connection. But more importantly, I came to understand that we did not live on Earth, but were part of Earth, and that we did not reside in the Universe, but that the Universe equally resided inside us. This allowed for me to rediscover why I thought humanity was special, not because we existed, but because this is the only place that we know of, where the Universe is aware of itself. A place where the Universe speaks to itself, and falls in love with itself. I was able to discover a new beauty in humanity, with how we love the music that other humans create, and the stories that other humans tell. When I look back on my past beliefs, I feel emancipated from the imagined self importance that I once had. Though humbled at the sheer vastness, it makes me feel big that we all have this connection. This is the Pale Blue Dot image. Here is an excerpt of Carl Sagan's narrative.
Have a Happy Valentines Day from all the astro-geeks at Frosty Drew Observatory!
Check out our page on Visiting Frosty Drew Observatory to learn more about what to expect at the Observatory and better help you prepare for your visit.
Please note that we do not allow any white lights on our campus from dusk - dawn. This is to ensure an equally awesome view of the night sky for all and to allow for the use of light sensitive astronomical equipment. Learn more about why we have this requirement in The Red Light District
-Scott