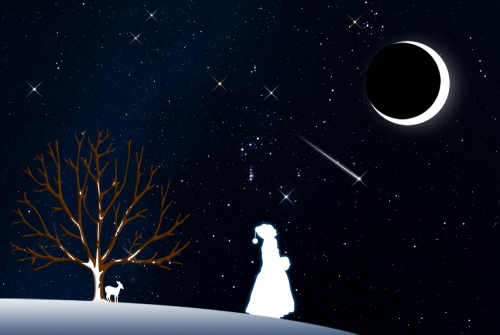 Stargazing Nights
Where:

Frosty Drew Observatory

When:

Fri, Mar 13, 2020 7:00 pm - 10:00 pm

Cost:

$5 Suggested Donation per person 5 years and older
Tonight is Stargazing Night at Frosty Drew Observatory, and though it is dismal out today, the rain and clouds will clear out later this afternoon, leaving mostly clear conditions for us to celebrate. There is a slight chance for heavier clouds at times, and we have a threat of wind gusts reaching 29 mph, though we should have an okay night. Variability overwhelmingly favors us at Frosty Drew and we can handle winds in that range if we restrict viewing to one side of the sky. Since we have a 78% waning gibbous Moon rising just before midnight, we are in for super dark skies. If clouds work out, thousands of stars will blaze the sky.
We'll open the Observatory, Sky Theatre, and Science Center at 7:00 pm tonight. In the Observatory we will start off with views of Venus, which is currently sporting a 57% waning gibbous phase. As we move out of twilight, we will direct the telescope towards the Orion Nebula, Messier 45 open star cluster, the Ghost of Jupiter – a young white dwarf, Hubble's Variable Nebula, R-Lepus – a carbon star, and more. Later in the night, if the sky is clear enough, we will direct the big telescope towards a few galaxies. In the Sky Theatre we will show our regular feature of celestial objects photographed at Frosty Drew Observatory. In the Science Center, the works of our astronomers will be on gallery. We will stay open until 10:00 pm.
Overall, tonight has the makings of a great night, though there is a good chance that some level of cloud cover will periodically pass through. Additionally, wind could make for difficult viewing conditions. If making the long drive it could be worth it considering we don't have the Moon during our open times. Temps will be much warmer than it has been for our Friday night geek outs, starting in the 50's and dropping into the mid 40's before we close up. So general conditions will be much more comfortable. All we need now is for the wind and clouds to stay down and we'll have a true rock out. So take a chance and stop in at Frosty Drew Observatory tonight and celebrate the last Friday of winter under the stars.
Catch up with this weeks celestial happenings, including fabulous conjunctions, the return of the ISS, and the Vernal Equinox in: Celebration of Space
Check out our page on Visiting Frosty Drew Observatory to learn more about what to expect at the Observatory and better help you prepare for your visit.
Please note that we do not allow any white lights on our campus from dusk - dawn. This is to ensure an equally awesome view of the night sky for all and to allow for the use of light sensitive astronomical equipment. Learn more about why we have this requirement in The Red Light District