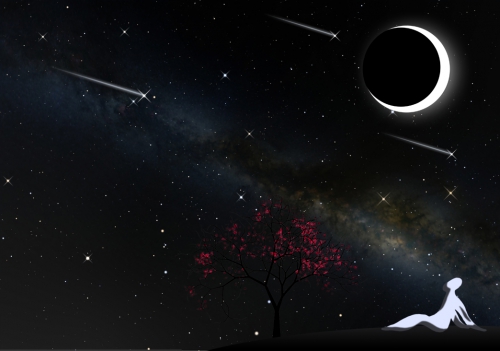 Summer Stargazing Nights - Live Streamed
Where:

Frosty Drew Observatory

When:

Fri, May 22, 2020 8:30 pm - 10:30 pm

Cost:

$5 Suggested Donation per person 5 years and older
Being that it's Memorial Day Weekend, tonight would have been the kick-off event of our Summer Stargazing Nights events at Frosty Drew Observatory. These events move the opening time to 6:00 pm so we can observe the Sun through Frosty Drew's fabulous solar telescopes. We also staff up during our summer events and have more telescopes, live presentations, and activities happening until we close up at 11:00 pm. Sadly, the extent of the global lock down has continued into this time-frame. So we are postponing the start of our Summer Stargazing Nights events until June 5, 2020, the earliest. Regardless, we will continue to offer you the cosmos in any way we can, even if it's over the web in the comfort of your homes.
Tonight, we will host our Stargazing Nights Live event from 8:30 pm until 10:30 pm. Forecasts are questionable during our broadcast window, but if the sky works to our favor, we will show live views from the telescopes of Frosty Drew astronomers set up at their homes. Additionally, we have had quite a stretch of amazingly clear dark nights this past week, which has allowed for us to get out under the stars nearly every night. So we have a nice collection of images that we have captured this past week and over the past month that we will show. A live commentary will be happening with our astronomers that involves you. Questions can be submitted by you, using the broadcast chat, which Frosty Drew Sky Evangelists will then read over the air to our astronomers.
We understand that this is not the same as sitting out under thousands of stars with the Milky Way rising, and that it may be getting a little old after a month of these broadcasts. Please know that we are working very hard on re-opening the Frosty Drew Observatory for public access, and have been on site nearly every night this week, measuring, marking, developing access models, taping, hanging signs, and figuring out how we can best welcome all of you back to our campus. Thank you for being so patient with us as we tread through this unexpected and rapidly changing situation. You are all awesome!
Tonight's Stargazing Nights Live Stream URL: https://youtu.be/uWyUW-tWqaQ
Catch up on all the awesome things happening this week in space including, the first crew supported launch from the United States in almost two decades, Cometr SWAN's fading, a remote Milky Way event, and ISS passes for this week in: A Celebration of Space
Check out our page on Visiting Frosty Drew Observatory to learn more about what to expect at the Observatory and better help you prepare for your visit.