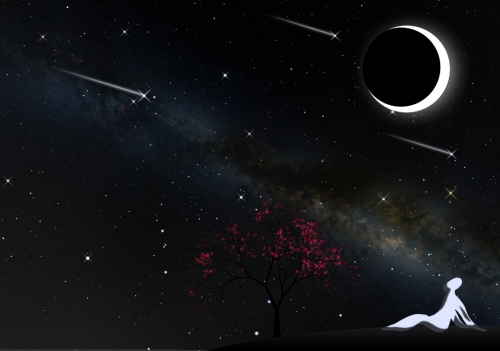 Summer Stargazing Nights
Where:

Frosty Drew Observatory

When:

Fri, Jun 19, 2020 9:00 pm - 10:30 pm

Cost:

$5 Suggested Donation per person 5 years and older. Tickets will be made available no earlier than one day before this event.
Tonight is Stargazing Night at Frosty Drew Observatory and forecasts are calling for variable conditions in regards to cloud cover. From what we can tell, we can expect anywhere from clear skies to mostly cloudy skies. Fog will be the problem tonight, with timings overnight, potentially much earlier. Considering that one of our most reliable forecasting sources got every single night this past week wrong, and they are predicting clear conditions again tonight, we are going to consider their prediction erroneous. As a result, we will stay closed tonight. Instead, we will offer a live streamed event.
With so many ad-hoc processes and the on-the-fly redesign of our events due to excessively stringent regulations on openings in the area, we are constantly faced with uncertainty in next steps. To say the least, this has spread our resources very thin. This weekend is the first weekend of the RI full out tourism season, now that schools are out. Tonight's forecast would have resulted in an opening tonight had normalcy been happening. Starting next Friday, we will open the Frosty Drew campus every Friday unless forecasts are calling for rain. Tickets will still need to be acquired for access to the Frosty Drew campus. Considering that tickets are donation based, ALL TICKETS ARE NON-REFUNDABLE! We cannot guarantee weather conditions and inclement weather will not get you a refund. We will post the most accurate predictions as possible regarding weather on the day of the event, and we usually get it right. Additionally, ticket acquisition links will be posted to the event page for that night (https://frostydrew.org/events) on the Wednesday that precedes the event. We will also add an update on what we are expecting regarding weather, which should be a consideration for you before acquiring a ticket. At this time, only 45 tickets will be available per night, and tickets are non-transferable. If the event is sold out, do not just show up.
We have received a bit of push back on these new processes. Please understand that we are just as frustrated as you are. But for now, this is the best we can do. Normally it takes months to properly plan, evaluate, test, and prepare for our events. Currently we are redesigning on the fly, just like everyone else. We make changes as fast as we can when we identify a deficiency and there are several issues that are overlooked. We apologize for the issues that we can fix, and continue our development towards a plan that works best for all. We are not complaining about the push back, and certainly welcome the feedback as it helps us to get an idea of how you all feel about what we are doing. Thank you for that feedback and for your continued patience as we figure all this out.
Tonight's live event will start at 8:30 pm and go for one hour. We will show either live views of the cosmos in our telescopes if the sky is clear enough. Otherwise, we will show images that we captured this past week. Using the live stream chat, you can discuss what we are looking at as well as submit questions which our moderators will then read over the air to our astronomers. So tune in either from home or from your phone where ever you're hanging out, and catch up on our little sliver of the galaxy.
Tonight's Live Stream will be available at: https://youtu.be/oeXU30W6SvU
Catch up on all the amazing things happening in space this week, including the Summer Solstice, another new comet, and our second Celebrate the Milky Way event for 2020 in A Celebration of Space - June 19, 2020
Be sure to subscribe to the Frosty Drew Observatory mailing list, follow us on Twitter (@FrostyDrewOBSY) or on Facebook to receive status updates about our Summer Stargazing Nights program and more.
If you are looking for that awesome astronomy thing to do or just want a night out to experience the cosmos under the darkest skies in Rhode Island, then this is your chance.
Please note that we do not allow any white lights on our campus from dusk - dawn. This is to ensure an equally awesome view of the night sky for all as well as to allow for the use of light sensitive astronomical equipment. Learn more about why we have this requirement in The Red Light District