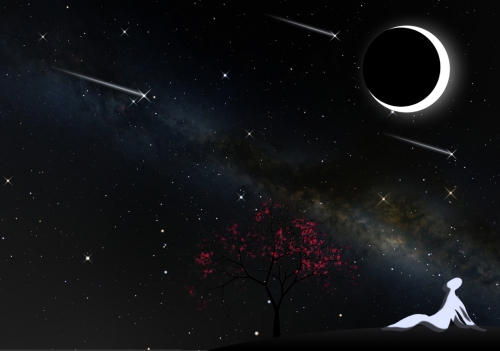 Summer Stargazing Nights - CLOSED
Where:

Frosty Drew Observatory

When:

Fri, Jul 17, 2020 - CLOSED

Cost:

$5 Suggested Donation per person 5 years and older
Update: July 17, 2020 12:00 pm ==============
Tonight's forecasts for clouds, shower, and patchy fog will keep the observatory closed. We may host a live streamed session tonight instead, and will post links later today if we decide to do so. Otherwise, we will attempt another opening tomorrow, Saturday, July 18th for our Celebrate the Milky Way special event. Clouds begone!
====================================
IMPORTANT NOTE: A link to acquire tickets will be posted on this event page no earlier than the day before the event, if weather is acceptable for viewing. We have been receiving an excessive number of phone calls and emails about where to acquire tickets for our events. This information is listed below! Kindly read the entire page before calling or writing in. The information is posted thoroughly so our team members do not have to respond to questions for redundant information. We will not respond to calls or emails with inquiries about how to acquire tickets! Thank you for your understanding.
Welcome to the Frosty Drew Observatory Summer Stargazing Nights! Every Friday night (weather permitting) we open our Observatory, Sky Theatre, and telescopes to the skies and offer free stargazing and astronomy to anybody interested in observing with us.
Tonight we will host a limited stargazing experience as part of our reopening plan. During this time of the year we usually open at 6:00 pm with solar observing. Celebrating views of the solar chromosphere and photosphere. Once the Sun sets, we switch over to the beautiful night sky over the observatory. Tonight's event will not include our solar observing event and will, instead start at 9:00 pm and end at 11:00 pm. We will have telescopes setup in the observatory courtyard showcasing nebulae, star clusters, binary stars, the Moon, and eventually Jupiter, Saturn, and Mars. The primary observatory 16" telescope will be open and will service one visitor at a time.
Due to restrictions on the number of people that can be in groups, we have integrated a temporary ticketing system. Tickets can be acquired online only! A link to acquire tickets will be posted on this event page no earlier than the day before the event, if weather is acceptable for viewing. Please DO NOT attempt to circumvent the ticketing process by using the standard donation form on our website. THAT WILL NOT GET YOU A TICKET OR ACCESS TO THIS EVENT! A ticket is required for admission at tonight's event!
Important information about tickets:
- A maximum of 120 tickets will be available for each night depending on telescope availability.
- A ticket is required for each person in your party / group.
- Tickets will not be available on site. This means you need to arrive with your ticket.
- Tickets will be checked at the Observatory main gate, either electronically or physically.
- The name on the ticket must match the name of the ticket holder.
- If you do not have a ticket, you will not be granted admission.
- Tickets are non-refundable.
- This event is weather dependent and cancellations will be posted on the day of the event.
We ask for a donation of $5 per person over the age of 5 years. The ticket acquisition process will accept any donation amount that you are willing to give, and we thank you for doing so!
When visiting, please be aware of signage and social distancing markers as well as flow indicators. If you are experiencing any symptoms of any contagion, stay home and postpone your visit, even if that means forfeiture of your ticket. Visitors who are visibly displaying symptoms of a contagion will not be granted admission. This is just how it is for now, so take your allergy pill before departing for Frosty Drew Observatory!
Before visiting we always recommend reading our page on Visiting Frosty Drew Observatory to learn more about what to expect at the Observatory and better help you prepare for your visit. Though in particular you should read our Equipment Usage TOS because this will be in full force and inability to follow will result in the visitor or party being required to leave. Please familiarize yourself with our visiting info. I could prevent a potentially embarrassing moment.
Be sure to subscribe to the Frosty Drew Observatory mailing list, follow us on Twitter (@FrostyDrewOBSY) or on Facebook to receive status updates about our Summer Stargazing Nights program and more.
If this event is cancelled due to inclement weather or other reasons, we will host a live streamed event showcasing images of the cosmos that our astronomers have captured earlier in the week. A link to the live broadcast will be added to this page on the day of the event. Regardless, you can catch up on our live streams, science and astronomy videos, and more on the Frosty Drew Observatory and Science Center YouTube
If you are looking for that awesome astronomy thing to do or just want a night out to experience the cosmos under the darkest skies in Rhode Island, then this is your chance.
Please note that we do not allow any white lights on our campus from dusk - dawn. This is to ensure an equally awesome view of the night sky for all as well as to allow for the use of light sensitive astronomical equipment. Learn more about why we have this requirement in The Red Light District
We will update this event with our weekly announcement on the day of the event. The announcement will describe our plans for the night and what to expect regarding weather and astronomical sights.