Rhythm and Roots 2012 Log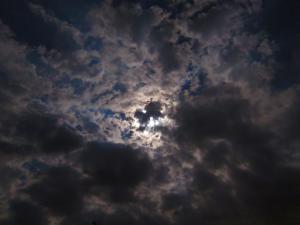 Blue Moon over Rhythm and Roots camp ground. Photograph by Scott MacNeill
This past weekend we opened both Friday and Saturday nights from dusk till dawn for the annual Rhythm and Roots festival. Ever since I started operating the Frosty Drew 16" telescope the Rhythm and Roots festival has always been a good omen for us in bringing clear skies and a fun, fantastic crowd. This year we unfortunately had the full (blue) Moon overhead blasting much light into our usually dark skies. This did make for some remarkable Lunar observation while keeping deep sky objects just out of reach. We also had a fair show of clouds on Saturday night / Sunday morning that only allowed for periodic observation. Regardless, the skies were quite clear when compared to every other Friday night of the 2012 summer.
On Friday night, we started with a quick observation of Saturn. Saturn is setting quite early and our chances for a clear, sharp view of Saturn's beautiful rings has past for the year. About 50 observers got a last glimpse of Saturn as we said goodbye till next Spring. Next up was the Blue Moon. We observed the bright full phased Moon for quite some time leaving stargazers stumbling out of the observatory with diminished dark sky adaption. As the night pushed on we pointed the telescope East and had some spectacular observations of Jupiter and its four Galilean Moons. We finished off our night with a beautiful view of the 58% waxing gibbous Venus.
Saturday night brought lower temps and less humidity. Unfortunately it also brought periods of clouds which kept us from getting underway until after midnight. Once the sky cleared, we started with a crystal clear view of Uranus, the Moon and eventually Jupiter. We stayed on Jupiter for quite some time mesmerized by the colorful equatorial bands that were so visible. We took a quick glance at M42 (The Orion Nebula) which was not nearly as visible as we expect, compliments of that bright Moon. Again, we finished our night off with a waxing gibbous Venus as the Sun started peaking over the eastern horizon.
Rhythm and Roots is always a super fun weekend for us at the observatory. We love all the fantastic people we meet and all the old friends we see coming back each year. A special thanks to Dan Orcut who three years ago single handedly made Frosty Drew Observatory famous at Rhythm and Roots. Dan elegantly keeps our crowd in line, cleans up after everyone, and brings coffee and hours of awesome conversation. As always a special thanks to Tom Abbott, our star volunteer who handled almost all collaboration with the Rhythm and Roots management and kept our large number of visitors occupied with alternative views and great information. A huge thanks to all the staff and patrons at Rhythm and Roots that hung out with instruments, conversation, and breathtaking gasps while observing the skies overhead. We hope to see you all again next year!
-Scott
Author:

Entry Date:

Sep 1, 2012

Published Under: