Public Observation Night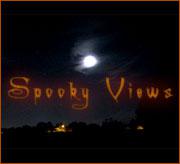 Tonight's forecast is calling for anything from mostly clear skies to mostly cloudy skies. We will open the observatory tonight at 6:30 with views of the 91% waxing gibbous Moon and a visible passing of the International Space Station. Later we will direct our telescope towards the planets Uranus and Jupiter, after which we will observe some bright binary star systems. If you are outside at 6:3p.m. tonight be sure to look up (about 20º up) and to the North to see the International Space Station passing overhead. It will appear as a bright star moving across the sky from the Northwest to the Northeast.
Tonight is our annual Spooky Views Halloween event. The focus of tonight's session will be Algol, the Demon Star. Algol, residing in the constellation Perseus, is the first eclipsing variable star ever discovered, and it's still the most famous one. Algol fades and rebrightens like clockwork every 2.87 days. Its changes are very plain to the naked eye. Tonight Algol will reach its minimum brightness (minima) at 1:14 a.m. We will be able to observe the drop in brightness and then , if skies stay clear, the increase in brightness as we move towards dawn.
Jupiter will soon be the primary object we view during our Friday night program as it is rising earlier and earlier every night. Tonight, Jupiter will become visible on the eastern horizon at 7:58 and within range of our telescope by 9:00. Once daylight savings time ends on November 4th we can expect Jupiter to be quite visible in our evening skies around 7:00. As we move into winter, Jupiter will be the brightest object in the night sky aside from the Moon. Be sure to take a moment to observe the largest planet in our solar system.
For those of you who would like to learn about astronomy, Frosty Drew will be having its three-week introduction to astronomy on Saturday afternoons in November. Each two-hour session will begin at 2:00 P.M. on November 3rd, 10th and 17th. Also, in late November we will be having an introduction to buying/getting a telescope. Would you like one, or like to buy one for the holidays? What are your choices? Which might be the best to purchase? Then, if you receive one and aren't sure what to do with it or how to work it, we will show you that later in the year. For more information on any of these, please check the web site at http://frostydrew.org/events.dc/upcoming_events/pss-obsy/.
Stop in tonight for some spooky halloween views, candy, and at 8:00 a broadcast of the Orson Welles original War of the Worlds radio broadcast. Dress warm as temperatures will be in the 40's tonight.
-Scott MacNeill
Author:

Entry Date:

Oct 26, 2012

Published Under: