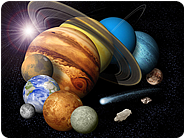 Kerberos
Saturday, December 4, 2021
Astronomers using the Hubble Space Telescope discovered a fourth moon orbiting the icy dwarf planet Pluto in 2011 while searching for rings around the dwarf planet. The moon was temporarily designated S/2011 (134340) 1 (and sometimes called P4) and was officially named Kerberos by the International Astronomical Union (IAU) in 2013.
Kerberos has an estimated diameter of 8 to 21 miles (13 to 34 km). By comparison, Charon, Pluto's largest moon, is 648 miles (1,043 km) across, and two other moons of Pluto, Nix and Hydra, are in the range of 20 to 70 miles in diameter (32 to 113 km).
Kerberos is located between the orbits of Nix and Hydra, which Hubble discovered in 2005. Charon was discovered in 1978 at the U.S. Naval Observatory and first resolved using Hubble in 1990 as a separate body from Pluto.
Parent Object: Pluto
Changing Data
Rises:

Sets:

Apparent Magnitude:

Illumination:

%

Size (")

Distance in light minutes:

Distance in miles:

0

Distance in AU:
Orbital Data
Rotational Period:

Orbital Period:

Periapsis:

0.000 * 100 km

Apoapsis:

0.000 * 100 km

Epoch:

Inclination:

°

Semi-Major Axis:

0.000 * 100 km

Orbit Circumference:

0.000 * 100 km

Eccentricity:

Ascending Node:

°

Axial Tilt:

°

Albedo:

Color BV:

Color UV:

Equatorial Diameter:

0.000 * 100 km

Equatorial Circumference:

0.000 * 100 km

Surface Area:

0.000 * 100 km2

Surface Gravity:

m/s2

Surface Temperature:

Mass:

0.000 * 100 kg

Volume:

0.00000 * 100 km3

Density:

g/cm3

Absolute Magnitude: