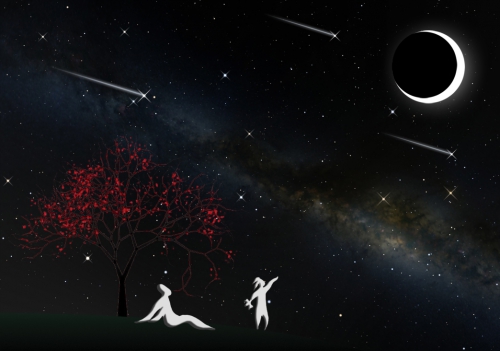 Stargazing Nights - Live Streamed
Where:

Frosty Drew Observatory

When:

Fri, Apr 10, 2020 8:00 pm - 11:00 pm

Cost:

$5 Suggested Donation per person 5 years and older
Tonight is Stargazing Night at Frosty Drew Observatory and forecasts are calling for mostly cloudy skies this evening, clearing out quickly. Timings are tricky, and clouds could linger a bit longer than we are hoping for. Additionally, access to Ninigret Park (home to Frosty Drew Observatory) has been denied to the general public, effectively closing Frosty Drew Observatory to public access. So we are moving our weekly Stargazing Nights events online until the park opens back up.
Starting at 8:00 pm tonight and continuing until 10:00 pm, Frosty Drew Observatory will host our first live streamed stargazing experience. Bringing views of the beautiful night sky over the homes of three of our astronomers that will rock your social distancing at home. Hang out with our astronomers and telescopes as we showcase our list of celestial awesomeness, including Venus, archived footage of the cratered lunar surface, NGC 2392 – a young white dwarf star, the Orion Nebula, the Leo Triplet (a grouping of three distant galaxies), Comet C/2019 Y4 ATLAS, Messier 82 and 81 – a galactic grouping, and anything else that the cosmos serves up. We will accept questions from visitors via the YouTube Live Stream Chat, which will be moderated by two of our Sky Evangelists.
At Frosty Drew Observatory, we believe that we can all find solace in the cosmos, an escape from the stresses of daily life, and our current situation, into the vastness of the Universe. Considering that we are all house-bound as well at Frosty Drew, we are in the same boat as you. So sit back on your couch, gather around the dining room table with your family, cast onto your TV with a big bowl of popcorn and a glass of tasty survival, or possibly sit outside with your phone or laptop under the stars. Regardless of how you tune in, this is your chance to escape from the reality of being homebound.
Tune in for a virtual night out for all of our home-bound friends, and celebrate the cosmos with us on the Frosty Drew Observatory and Science Center YouTube.
Tonight's Stargazing Nights Live Stream URL: https://youtu.be/PSYrlevYvWc
Note: Though we have had several tests of this platform, you are all beta testing with us. Please keep that in mind before freaking out (which we usually do at the Moon, weather, and flat-Earthers). Mistakes are learning opportunities, and we expect tonight to be quite educational!
Catch up with this weeks celestial happenings, including calculating the date of Easter, and the dynamics of Venus in: Celebration of Space
Check out our page on Visiting Frosty Drew Observatory to learn more about what to expect at the Observatory and better help you prepare for your visit.