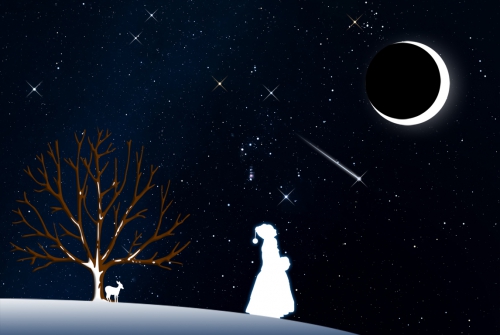 Stargazing Nights
Where:

Frosty Drew Observatory

When:

Fri, Feb 26, 2021 7:30 pm - 9:30 pm

Cost:

$5 Suggested Donation per person 5 years and older
Welcome to the Frosty Drew Observatory Stargazing Nights! Every Friday night (weather permitting) we open our Observatory, Science Center, Sky Theatre, and telescopes to the sky and offer free stargazing and astronomy to anybody interested in observing with us.
Tonight we will open the Observatory and Observatory Courtyard from 7:30 p.m. to 9:30 p.m. In the primary observatory telescope we will showcase the super bright Full Moon, and any binary star that we can spot. The Moon will be incredibly bright tonight, and will outshine just about everything else in the sky aside from binary stars. In the Observatory Courtyard, telescopes will showcase the Full Moon with a wider field of view, alongside anything else our astronomers want to show.
Overall, tonight is not the best night, unless you are a lunar junkie. The Moon will be super bright and will make viewing of the fabulous starscape, nebulae, and galaxies near impossible. Additionally, clouds will begin to move in after 8:30 p.m., but will likely be thin enough to continue observing. On the flip side, if the Moon is your digs, then tonight is your night! The Moon is about 4 days from perigee, which is when the Moon is closest to Earth in its orbit, which will visibly increase the brightness and size of the Moon. Add in the high probability of a 22º lunar halo forming tonight, and it will be a night for lunar freak outs.
We may host a live stream of the Moon from the Observatory tonight alongside our onsite event. Being that we are a bit shorthanded we are still unsure if it will occur. If we do get a live stream up and running, it will be available at the following YouTube page:
https://www.youtube.com/c/FrostyDrewObservatoryandScienceCenter
Be sure to subscribe to the Frosty Drew Observatory mailing list, follow us on Twitter (@FrostyDrewOBSY) or on Facebook to receive status updates about our Stargazing Nights program and more.
Take a moment to catch up on some of the amazing things happening in astronomy this week in: A Celebration of Space - February 26, 2021
Now that Frosty Drew Observatory has entered its off / down season we are scaling back our operations for a few months. We will still open every Friday night, weather permitting, to host our Stargazing Nights event. Though we will not have as many telescopes or astronomers available. The big change of late is the removal of our ticket requirement, which could come back at any time we feel it is necessary. What this means is that visitors can freely visit Frosty Drew Observatory on Friday nights. What it DOESN'T mean is that everything is back to normal. We will be counting the number of visitors that enter our Courtyard and will only allow up to a specific number depending on how visitors are conducting themselves. Additionally, dome access will be a mix of self governed and astronomer managed. The same restrictions will be in place as have been for the past month and we will have signage as well as team members to help direct flow dynamics. It is very cold in the winter at Frosty Drew and due to this new model, you will be outside in the wind for extended periods of time. Inadequate preparation for your visit is NOT our fault! Our down season usually lasts until May. This is yet another trial and error process that we will adapt to and learn from. We thank you for your patience during these times.
If you are looking for that awesome astronomy thing to do or just want a night out to experience the cosmos under the darkest skies in Rhode Island, then this is your chance.
Check out our page on Visiting Frosty Drew Observatory to learn more about what to expect at the Observatory and better help you prepare for your visit.
Please note that we do not allow any white lights on our campus from dusk - dawn. This is to ensure an equally awesome view of the night sky for all and to allow for the use of light sensitive astronomical equipment. Learn more about why we have this requirement in The Red Light District
It is cold at Frosty Drew Observatory during the winter. Visitors will be completely exposed to the harsh winter environment while standing on frozen ground. Dressing properly is REQUIRED to attend! Lean how the Frosty Drew Astronomers dress for working overnight on the Frosty Drew campus during the winter. Read it! Follow it!