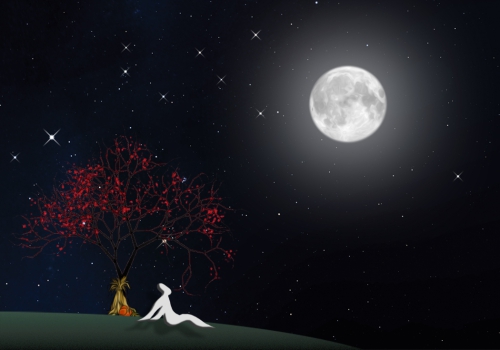 Stargazing Nights - The Harvest Moon - SOLD OUT
Where:

Frosty Drew Observatory and Science Center

When:

Fri, Sep 9, 2022 8:00 pm - 10:30 pm

Cost:

This Event has SOLD OUT
Welcome to the Frosty Drew Observatory Stargazing Nights! Every Friday night (weather permitting) we open our Observatory, Science Center, Sky Theatre, and telescopes to the skies and offer free stargazing and astronomy to anybody interested in observing with us.
Tonight's forecasts are looking fantastic for this evening, and we can expect clear sky conditions with a light breeze. Being that the Moon is at its full phase overnight tonight, the sky will be quite bright, with only the brightest stars shinning through the moonlight. Certainly a night for the those with a thing for the Moon!
We will open the Observatory, Courtyard, Science Center, and Sky Theatre at 8:00 pm tonight. In the Observatory and Courtyard the prime targets of the night will be the bright Harvest Moon, Saturn, and Jupiter. Albireo, Mizar, and other binary stars will be in view as well, though all deep sky objects will be overtaken by bright moonlight. In the Sky Theatre we will show a feature of celestial objects captured at Frosty Drew Observatory. The Science Center will have exhibits on display, as well as some of the projects we are working on at Frosty Drew. We will close up at 10:30 pm.
Overall, tonight looks like a beautiful night. But tonight is a night for those who have a thing for the Moon or for autumn, as the Moon will dominate the sky. If dark sky conditions, ripping views of the Milky Way, or thousands of stars are what you are expecting, then tonight will be the night to skip. But hey, it's the Harvest Moon, and what better way to gear up for autumn than a night out with one of the most known symbols of the fall season. So put on a jacket and head out to Frosty Drew Observatory tonight, and celebrate the end of summer with a stunning view of the Harvest Moon.
Take a moment to catch up on some space based happenings in:
A Celebration of Space - September 9, 2022
THIS EVENT HAS SOLD OUT
If you do not have a ticket, you cannot attend tonight's event. Please do not just show up and argue with our astronomers. That is just not cool! There will be several other events this summer.
If you are looking for that awesome astronomy thing to do or just want a night out to experience the cosmos under the darkest skies in Rhode Island, then this is your chance.
Be sure to subscribe to the Frost Drew Observatory mailing list, follow us on Twitter (@FrostyDrewOBSY) or on Facebook to receive status updates about our Summer Stargazing Nights program and more.
Preparing for Your Visit:
Check out our page on Visiting Frosty Drew Observatory to learn more about what to expect at the Observatory and better help you prepare for your visit.
Please note that we do not allow any white lights on our campus or in Ninigret Park from dusk - dawn, with the exception of low bean headlights while in motion. This is to ensure an equally awesome view of the night sky for all and to allow for the use of light sensitive astronomical equipment. Learn more about why we have this requirement in The Red Light District.