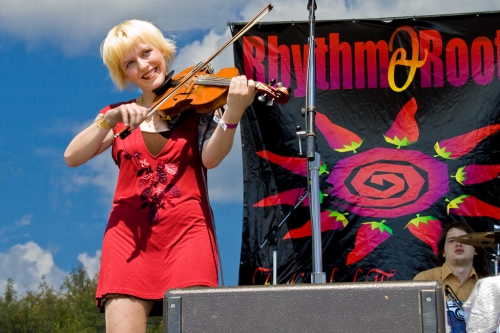 Summer Stargazing Nights - Rhythm and Roots
Where:

Frosty Drew Observatory

When:

Fri, Sep 1, 2023 6:30 pm - 11:00 pm

Cost:

$5 Suggested Donation per person 5 years and older
Welcome to the Frosty Drew Observatory Summer Stargazing Nights! Every Friday night (weather permitting) we open our Observatory, Sky Theatre, and telescopes to the skies and offer free stargazing and astronomy to anybody interested in observing with us.
Tonight's forecast looks amazing! We can expect clear sky conditions with cooler temperatures and drier conditions. Even though the music festival will bring a significant increase in artificial light, the 96% waning gibbous Moon would have outshined the night sky anyway. Additionally, seeing conditions, which are a measure of atmospheric stability in regards to observing in a telescope, looks to be quite good tonight as well, which could give us fantastic views of Saturn and Jupiter in our telescopes. Certainly, a fantastic night to end our summer season on.
We will open the Observatory and Courtyard at 6:30 pm this afternoon. In the Courtyard we will have our solar telescopes set up for one last afternoon of solar observation. Even though the Sun is taking a break from any big activity today, there are still sunspots in view, which we will be observing. Once the Sun sets we will switch to night sky mode. First up will be the binary stars Albireo, Rasalgethi, and Epsilon Lyra (the famous Double Double). Since the Moon will be so bright tonight, most of the objects we observe will be multiple and binary stars. Once Saturn rises over the trees our Courtyard telescopes will offer a view, eventually we will have it in the big 24 inch telescope. Jupiter will become accessible to our Courtyard telescopes at the end of the night for about 30 minutes, offering up an early season view. We will close up at 11:00 pm.
Tonight's event will be accompanied by the popular Rhythm and Roots music festival in Ninigret Park. The festival will bring a lot of people to Ninigret Park, as well as very loud music. The tunes are Bluegrass and Americana, and many past years have brought some amazing music. Tonight may not be the best night for children depending on your personal beliefs. The visitors base to the park can get quite rowdy and the music is loud. We think it is fabulous, and we always look forward to this event. Due to the festival taking place we will keep the Sky Theatre and Science Center closed tonight. Restroom access will be available to Frosty Drew visitors only. When driving along Park Lane in Ninigret Park, you will pass through a couple of parking attendant check points. Kindly inform parking staff that you are not attending the music festival, and that you are visiting Frosty Drew Observatory and Science Center, and they will let you pass. You do NOT have to pay to park if you are visiting Frosty Drew. Also note that parking at Frosty Drew will be extremely limited, as well as overall parking in the Park.
Tickets are not required to attend tonight's event because of the music festival, but access to the large Observatory telescope and dome will still be based on access groups, which fill up fast. Considering that the Sky Theatre and Science Center are closed tonight, we will not have a full program, which will make the event less than usual if you do not get into a dome group. So arriving early will be to your advantage,
Overall, tonight is looking like an amazing night of stars, planets, and tunes. The bright Moon will be out as well as a lot of lights from the music festival, but the sky will be clear and the views should be sharp. So stop in for one last summertime view of the cosmos at Frosty Drew before we kick off our Autumn Stargazing Nights, and send off summer in Americana style under the stars tonight.
Take a moment to catch up on some astronomy happenings this week in:
A Celebration of Space - September 1, 2023
Be sure to subscribe to the Frost Drew Observatory mailing list, follow us on Twitter (@FrostyDrewOBSY) or on Facebook to receive status updates about our Summer Stargazing Nights program and more.
This weekend will also bring the fabulous Rhythm and Roots music festival to Ninigret Park (home to Frosty Drew Observatory). The event, though loaded with amazing Americana and Blue Grass tunes, will also bring substantial artificial light, loud music, and hundreds of people to the park. We love this weekend because of all the fabulous people, bands, and bustle it brings to the park.
If you are looking for that awesome astronomy thing to do or just want a night out to experience the cosmos under the darkest skies in Rhode Island, then this is your chance.
Preparing for Your Visit:
Check out our page on Visiting Frosty Drew Observatory to learn more about what to expect at the Observatory and better help you prepare for your visit.
Read about our Observatory Dome Access Passes, which are available on a first come first serve basis.