Celebration of Space - September 1, 2023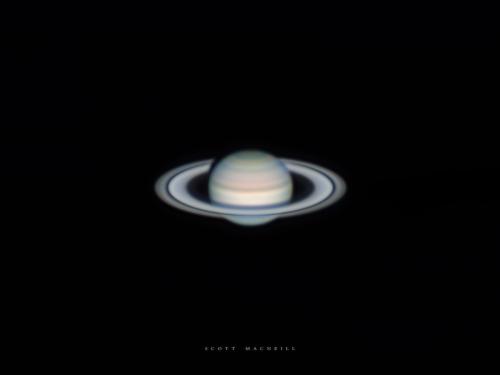 Saturn at opposition in 2021 at Frosty Drew Observatory. Credit: Frosty Drew Astronomy Team member, Scott MacNeill.
This past Sunday, August 27, 2023, Earth arrived at the point in our orbit where Saturn was on the opposite side of Earth than the Sun. This is called the opposition of Saturn, and places Saturn into the best viewing for the 2023 viewing season.
Saturn has a rather long orbit around the Sun, at 29.4 Earth-years. Saturn is also tilted 26.7° on its axis, which is visible when looking at the rings. Saturn's rings sit over the equator. Since it takes Saturn so long to orbit the Sun, Earth will catch up and pass Saturn every year. Considering that Saturn's tilt doesn't change, but the orientation of Saturn's tilt will change based on where it is around the Sun, we see Saturn's rings at different tilts each year. In 2017 Saturn experienced its Summer Solstice, and during that year, Saturn's rings were tilted at maximum 26.7° towards us. Since then Saturn has been moving through its summer season, and will arrive at the Autumnal Equinox in 2025. During that year, Saturn will not appear to have rings from our point of view, and just a thin line across Saturn's equator will be visible. This is because we will be viewing Saturn's rings on edge. After which, we will begin to see the underside of Saturn's rings. In 2023, the rings are close to on edge, but are still visible, though not nearly as clear as they were in 2017.
The weeks surrounding the opposition of Saturn will bring the best viewing times of the year. Saturn will be in direct sunlight from our viewpoint, and will be at its closest to Earth for the year, at 814.57 million miles distant on August 27th. So stop in over the next several weeks to catch a stunning view of Saturn in the large 24 inch telescope, and become part of the crowd that has had their minds blown viewing Saturn's rings with their own eyes.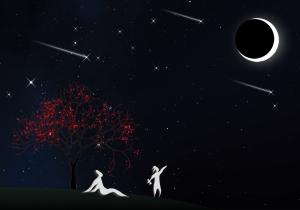 Starting next Friday, September 8, 2023, the Frosty Drew Observatory and Science Center will kick off our Autumn Stargazing Nights events, which run every Friday night. At first the only change that visitors may notice will be the later opening time of 7:30 pm, and the earlier closing time of 10:30 pm. Now that we are closing in on the Autumnal Equinox, sunset times are getting earlier, and the Sun is too low over the western treeline to continue our solar viewing program. The theme of this autumn will be Saturn and Jupiter, with a special emphasis on the coming solar eclipses, first on Saturday, October 14, 2023, and next on Monday, April 8, 2024. Even though we are starting an hour later, and closing 30 minutes earlier, the nights will still be packed with telescopes, science exhibits, presentations, and of course – fabulous views of the cosmos. So gear up for cooler nights and earlier sunsets as we wrap up our Summer Stargazing Nights events, and step into the spookier time of the year at Frosty Drew.
On Saturday, September 9, 2023, the Frosty Drew Observatory and Science Center will host our third annual Inspire, Discover, Enlighten, and Awe (IDEA) Expo fundraiser. The event starts at 2:00 pm and goes until 5:00 pm. We'll have live views of the Sun available in our numerous solar telescopes. Frosty Drew Astronomy Team members will have exhibits set up about astronomy, telescopes, and astrophysical sciences. Our Board of Directors will be on site as well offering information about the organization's history and our namesake. It will be a day of kid friendly stories under our willow tree along the coast of Little Nini pond, sunspot viewing, and more. So stop in and support the Frosty Drew Observatory and Science Center in 2023. Your support means so much to us and enables us to inspire thousands of people every year to reach for the stars. Learn more about the expo at: https://frostydrew.org/IDEA-Expo.
This coming Sunday, September 3, 2023, another set of Starlink satellites will launch from the Kennedy Space Center in Florida. The launch window opens at 7:07 pm and continues until 11:37 pm. This means that the launch vehicle, which is the SpaceX Falcon 9 rocket, could be visible to sky watchers along the east coast, including Southern New England. If attempting a view, you will want to be at a location with a good view of the S→SE horizon, and be there for 7:00 pm. The launch vehicle will look like a fast moving bright star at first. Eventually the exhaust plumes could become quite visible, especially if the launch happens just after sunset. We aren't sure that the launch will be visible, and SpaceX is infamous for not posting viewing maps, but we have seen several of these launches over Southern New England, and this launch may be the next one. So take a chance and let us know if you see it.
Author:

Entry Date:

Sep 1, 2023

Published Under: