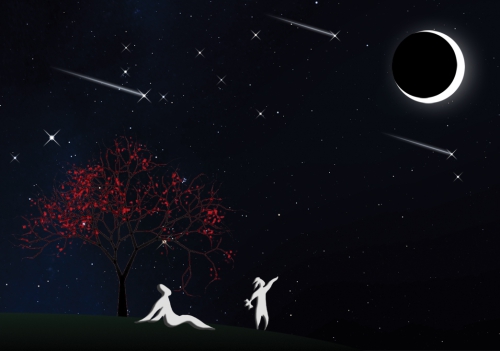 Stargazing Nights
Where:

Frosty Drew Observatory and Science Center

When:

Fri, Nov 18, 2022 7:00 pm - 10:00 pm

Cost:

Ticket Sales Have Ended
Welcome to the Frosty Drew Observatory Stargazing Nights! Every Friday night (weather permitting) we open our Observatory, Science Center, Sky Theatre, and telescopes to the skies and offer free stargazing and astronomy to anybody interested in observing with us.
Tonight's forecasts are calling for mostly clear sky conditions with passing snow squalls. Most sources appear to agree that the sky will stay mostly clear until around 9:00 pm, which is when some of the squalls will move in. Considering that the 21% waning crescent Moon does not rise until 1:35 am, we will have super dark sky conditions to celebrate. Tonight will be the first night of winter like temperatures at Frosty Drew, with wind chills dropping into the low 30s during our session. Though the sky should put on a nice show.
We will open the Observatory, Courtyard, Sky Theatre, and Science Center at 7:00 pm tonight. In the Observatory and Courtyard our telescopes will showcase a host of planetary awesome, with Saturn, Jupiter, and Mars, all on display. Jupiter will have a special view for us with the Galilean Moon – Callisto making a visible pass behind Jupiter, and will appear just above the planet in our view. Being that the Moon will not be present this evening, we will have stunning views of star clusters, nebulae, and galaxies, including the Andromeda Galaxy. In the Sky Theatre we will show a feature on the Total Lunar Eclipse of November 8, 2022 with images captured at Frosty Drew Observatory. In the Science Center, exhibits will be on display alongside images captured by the Frosty Drew Astronomy Team. The Science Center and Sky Theatre will both serve as a space to escape the frigid outdoor temps. We will close up at 10:00 pm.
Overall, tonight looks to be a fantastic night. We do have a threat of passing clouds and snow squalls, which could close the Observatory roof. Though it appears that the bulk of these events will not happen until around 9:00 pm. If making the long drive, there is a risk of clouds, but having no Moon present will make for a beautiful night of super dark sky conditions. Regardless of where you are coming from, you will need to prepare for the colder temps tonight, and the wind will be quite relentless. Read up on how the Frosty Drew Astronomers dress for the cold nights, and we suggest you do the same: https://frostydrew.org/publications.dc/show/entry-884/. Now bundle up and gather the family for a night of late-autumn stargazing under the darkest sky in Southern New England, and become acquainted with the cosmos.
Tickets are required for visitors to attend this event. Tickets are free, though a suggested donation of $5 per person, at the event or online, is very appreciated.
If you are looking for that awesome astronomy thing to do or just want a night out to experience the cosmos under the darkest skies in Rhode Island, then this is your chance.
Take a moment to catch up on some space based happenings and gear up for the holiday week in:
A Celebration of Space - November 18, 2022
Be sure to subscribe to the Frost Drew Observatory mailing list, follow us on Twitter (@FrostyDrewOBSY) or on Facebook to receive status updates about our Stargazing Nights program and more.
Preparing for Your Visit:
Check out our page on Visiting Frosty Drew Observatory to learn more about what to expect at the Observatory and better help you prepare for your visit.
Please note that we do not allow any white lights on our campus or in Ninigret Park from dusk - dawn, with the exception of low bean headlights while in motion. This is to ensure an equally awesome view of the night sky for all and to allow for the use of light sensitive astronomical equipment. Learn more about why we have this requirement in The Red Light District.