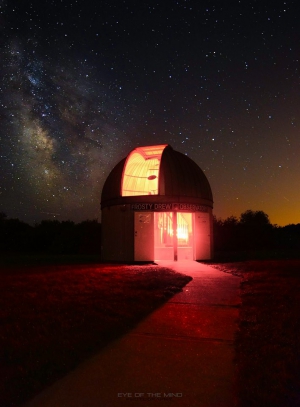 Summer Stargazing Nights
Where:

Frosty Drew Observatory

When:

Friday July 1, 2016 at 7:30 p.m.

Cost:

$1 Suggested Donation per Person
Tonight is Stargazing Night at Frosty Drew Observatory and everything except the weather is lining up for an awesome night. At this point, forecasts are calling for pretty much everything that can ruin our night; clouds, fog, showers, heavy rain, hail, high winds and t-storms. This brings to mind the old New England sky watching formula: excellent celestial event + clouds + New England = inseparable. Though forecasts this year have been as reliable as a screen door on a submarine, and generally favoring us. Though tonight does not appear to one of those nights. This is really unfortunate because aside from the holiday weekend, we also have practically no Moon all night long with the 5% waning crescent not rising until pre-dawn hours. No Moon on the first weekend of July screams Milky Way viewing.
At this point, we plan to open the Sky Theatre at 7:30 p.m. featuring a showcase of celestial objects we have photographed at Frosty Drew Observatory with a commentary and an open discussion on general astronomy. With the likelihood of severe t-storms, we will keep the Observatory building closed tonight. Around 9:00 in the Sky Theatre, we will be showing the movie 51 Degrees North to celebrate Asteroid Day, which occurred yesterday, June 30th. We will stay on site until 10:30 p.m. tonight.
Overall, what could have been an awesome night will certainly play out with stormy conditions. T-storms are the worse part of the forecast as they do pose a safety concern. If by chance the skies actually clear enough to catch a view, we will post an update to our Twitter (@FrostyDrewOBSY) and Facebook. Though the stars will probably not be around tonight, stop in and learn a bit about all the amazing things happening in astronomy today and maybe catch a quick flick with the Frosty Drew geeks.
Happy Fourth of July!
-------------------------------------------------------------------------
Weekly Happenings
Scott MacNeill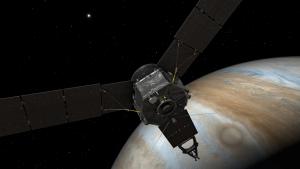 On Monday, July 4th, while rocking your holiday festivities, the NASA Juno spacecraft will complete its five year journey across the Solar System when its rockets fire, placing the little spacecraft in orbit around Jupiter. Scheduled for 11:18 p.m., Juno's Jupiter Orbital Insertion (JOI) procedure will take 35 minutes to complete and if all goes well, will insert Juno into an elliptical polar orbit around Jupiter. The Juno mission is the 9th spacecraft to visit Jupiter, though it is a mission of many firsts. Among the awesome science Juno will do, it is also the farthest traveling solar powered spacecraft from Earth, will fly the closest to Jupiter's cloud tops at a distance of 2,600 miles, and will take the highest resolution photos of Jupiter to date. The mission goals are to investigate Jupiter's massive magnetic field, atmospheric rotation, the state of Jupiter's core, and more. NASA will broadcast live coverage of the event on NASA TV starting at 10:30 p.m . EDT. Come up to speed with our article on the Juno mission, then gear up for awesome discoveries, photos, and loads of science fodder for all us astro-geeks here on Earth as another fabulous mission blazes our aspiration for knowledge about the Solar System's history, origins, and our awesome place among the cosmos.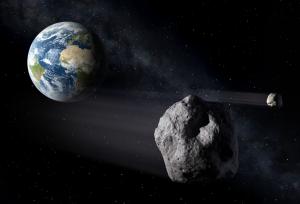 Yesterday, June 30th, was the second annual Asteroid Day, a day of awareness and education about the threat asteroid impacts pose to residents of planet Earth. Asteroid Day started as a scientific declaration to increase our asteroid discovery abilities to detect 100,000 Near Earth Asteroids (NEA) per year over the next 10 years. Which is a substantial step up from our current ability to detect about 1,500 NEA's larger than 20 meters on a yearly basis. This declaration addresses the concern that over 1 million asteroids have the potential to impact Earth and we have only discovered about 1% of them. This declaration quickly garnered the support of many leading scientists, astronauts, and thousands of members of the larger science, engineering and technology communities. Now Asteroid Day presents the challenge to develop new technologies that can detect and track NEA's capable of life changing impact events on Earth. Asteroid Day falls on the anniversary of the Tunguska Event, the largest impact event in recent history, when a 40 meter diameter asteroid exploded over Siberia in 1908 destroying nearly 800 square miles of forest. Though Asteroid Day 2016 has passed, the challenge is still on. Learn about asteroids, current detection and deflection technologies and ideas as well as programs that attempt to answer this challenge. Are you up for the challenge of protecting future generations from catastrophic impact events? Do it!