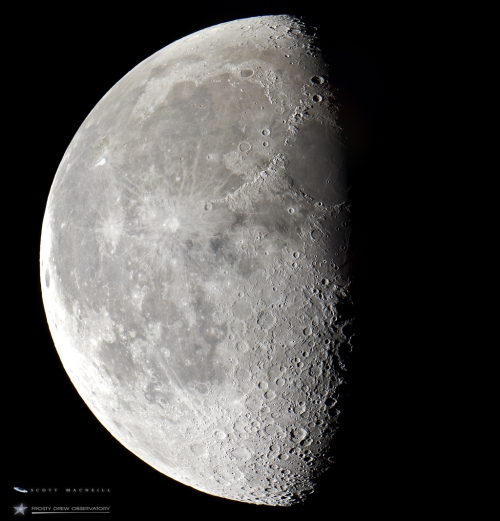 Stargazing Nights
Where:

Frosty Drew Observatory

When:

Friday May 19, 2017 at 8:30 p.m

Cost:

$1 Suggested Donation per Person
Tonight is Stargazing Night at Frosty Drew Observatory and forecasts are looking rather favorable for observing. The super hot temps we have had these past few days will depart and we can expect partly clear to partly cloudy skies becoming progressively clearer overnight. We also have no Moon until the 34% waning crescent rises at 2:30 a.m. This will make for fabulously dark skies. Depending on how thin cloud cover is and the level of haze, we could have a stunning night ahead of us.
We will open the Observatory and Sky Theatre at 8:30 tonight. In the Observatory we will start off with a twilight view of Jupiter and three of the four Galilean Moons. Once twilight wanes we will direct our telescopes towards star clusters, nebulae, and binary stars. Saturn will become a fabulous target for our telescopes around 11:30 p.m. and the Milky Way will show up after midnight. In the Sky Theatre we will feature our showcase of celestial objects photographed at Frosty Drew. We will stay open until midnight after a quick view of Saturn, though tonight's skies could keep us much later.
Overall, tonight is a variable night. The early morning Moon rise, our first views of Saturn for the year, and the Milky Way becoming very visible after midnight until the 2:30 a.m. moonrise will make for what would normally be a fabulous night. Variability lies with how hazy the skies may be on the flip-side of this heat spell. When visiting keep in mind that mosquitoes will likely be an issue during twilight, so spray up. If your looking to see the Milky Way, you will have to be out from midnight until 2:30 a.m. Outside of that window, you will miss out. Following us on Twitter (@FrostyDrewOBSY) or will get yFacebookou updates from the Observatory including a "Closing up" post when we decide to call it a night. Now cast off the heat of the week with a fantastic night out under the stars at Frosty Drew Observatory.
------------------
Weekly Happenings
Scott MacNeill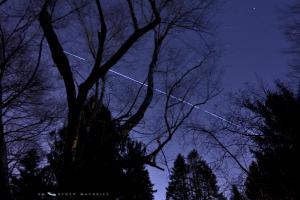 On Monday, May 22nd, the International Space Station (ISS) returns to the nighttime skies over the U.S. Lasting for almost three weeks, regular nightly passes of the Station will become commonplace, some of which will be the best we have seen in a while. Additionally, every night until May 28th, we will see the ISS every time it orbits over our location, which happens every 90 minutes. This will present so many opportunities to see the ISS that you're sure not to miss it. Daily visits to our wilhome pagel will get you pass times applicable to Southern New England and largely the Northeast. To get specific pass times for your location, check out NASA's Spot the Station. We will also post pass notifications to our Twitter and Facebook on clear nights. Check out our article on , then make it a regular thing to step ouviewing the ISSt and catch a view of humanity's only space based residence.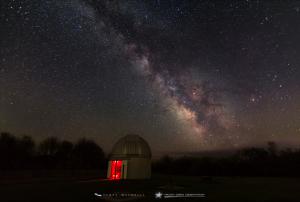 This week, fabulous views of the Milky Way will again return to our overnight skies. This morning's third quarter phase places the Moon into the waning crescent stage of the monthly synodic cycle. Setting later with each passing night, the crescent Moon will progressively become less of a complication for those looking to see or photograph the Milky Way. Currently, the Milky Way becomes visible shortly after midnight at Frosty Drew Observatory and other super dark locations free of light pollution. The New Moon will occur this coming Thursday, May 25th, placing the Memorial Day holiday weekend, and the following week, on the radar for stunning Milky Way viewing. Let's hope the frequent bouts of rain and clouds take the back seat over the next couple weeks. As usual, if you capture a photograph of the Milky Way, post it on our Facebook and we'll share it to our time-line.
Save the Date: Next Friday, May 26th, brings back the Frosty Drew Summer Stargazing Nights. This will change our opening times to 6:00 p.m. and add our Solar Viewing program which runs 6:00 p.m. - sunset every Friday until Labor Day. For 2017 we are adding a Hydrogen Alpha telescope, dedicated to safe solar viewing, which will allow for live views the solar chromosphere, including breathtaking views of solar prominence, filaments, and sunspots. After sunset we will continue to show fabulous views of Jupiter, Saturn, the Milky Way, and more. So mark Fridays on your calendar as the night to let out your inner-geek and become acquainted with the cosmos.
-Scott