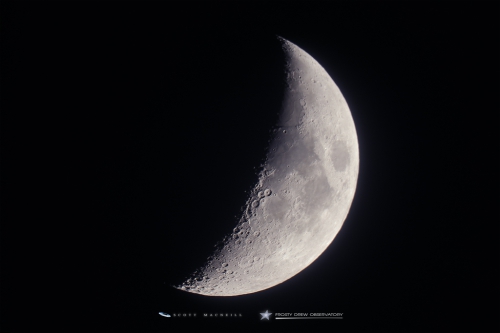 Stargazing Nights
Where:

Frosty Drew Observatory

When:

Friday March 23, 2018 at 7:30 p.m

Cost:

$1 Suggested Donation per Person
Tonight is Stargazing Night at Frosty Drew Observatory and forecasts are calling for cloudy skies with a chance of showers to start. Clouds are expected to move out starting after sunset, eventually clearing at some point overnight, though timings appear quite variable. The 43% waxing crescent Moon will be with us at sunset and will set 1:40 a.m. At 43% phase, the Moon will not be massively bright, but will obscure some of the dimmer objects we often observe on dark nights. At this time we are unsure of how the night will play out as far as weather goes, though we will likely stay on standby until we get a better idea.
We will open the Observatory and Sky Theatre at 7:30 p.m. In the Observatory telescopes will start off on standby as we evaluate sky conditions on site. If clearings are present, we will direct our telescopes towards the Moon, the Orion Nebula, and more. If clouds are persistent, we will move into the Sky Theatre and showcase frequently observed wintertime objects on the big screen using previously captured photographs at Frosty Drew Observatory. We will stay open until 11:30 p.m. if skies cut us a break, otherwise we will pack it in at 9:30 p.m.
Overall, tonight is not looking all that fantastic. We can expect cloudy skies for most of the evening period, with clearings realistically happening closer to midnight. Though variability often favors us and there is a lot of variability in tonight's clearing times. The 43% waxing crescent Moon will offer up fantastic views of the lunar surface, but will be bright enough to obscure some of the starscape. If skies work out, it could end up being a nice night. Otherwise, have a geek out with us in the Sky Theatre and catch up on some of the amazing things happening in astronomy.
-----------------
Weekly Happenings
Scott MacNeill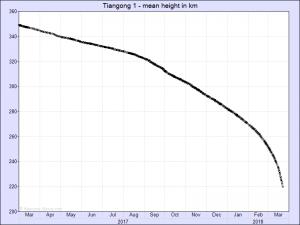 Starting tonight and continuing nightly for the next three weeks, the International Space Station (ISS) will be making visible passes over the United States. Tonight, you can catch sight of the station in the SSW at 8:11 p.m. as it rises to 25° heading towards the SE. Though tomorrow night will offer a beautiful view of the ISS rising nearly overhead and into Earth's shadow. Step out at 8:55 p.m. and look to the WSW, catch the ISS rising to 58° before fading out of view. This is called orbital sunset, and all residents of the station are experiencing sunset at that moment. These times as well as the times listed on our homepage are applicable to Southern New England and will be generally acceptable for Northeast sky watchers. For times applicable to your location, check out NASAs Spot the Station. Have you wondered why you cannot see the ISS every time it passes over? How about why the station passes over different parts of the sky? Read up on how the station orbits Earth. Then gear up for three weeks of fabulous evening ISS passes, compliments of humanity's only continuously inhabited space destination.

Speaking of visible space station passes. Tiangong 1 – China's first station in a series of test-bed-space stations, has been falling back to Earth progressively over the last year, a descent that has significantly accelerated in the past few weeks. It is now predicted that Tiangong 1 will re-enter Earth's atmosphere between March 30th and April 3rd. Based on Tiangong 1's orbit, re-entry will occur between 43°N and 43°S with highest probabilities between 40°N – 43°N and 40°S – 43°S. That puts Southern New England into the high probability zone! Since the station orbits Earth once every 90 minutes, we have 18 daily re-entry scenarios, though over our location we have about 4 per day. You can track all passes of Tiangong-1 over your location. Be sure to set "All" for the "Passes to include" option. During this window, keep an eye to the sky on the times that Tiangong 1 passes over, re-entry could be epic! Note, this is not a dangerous moment for us, the probability of someone being hit by debris is minuscule. You have a significantly higher probability of being struck by lightning.