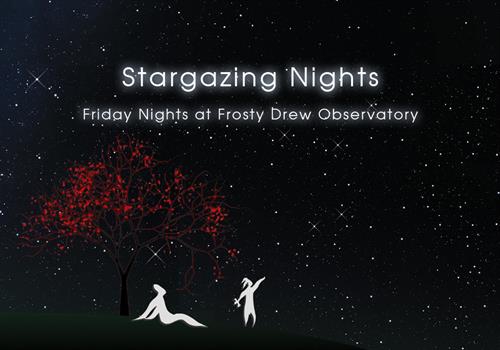 Stargazing Nights - Closed Tonight
Where:

Frosty Drew Observatory

When:

Friday April 27, 2018 - CLOSED

Cost:

$1 Suggested Donation per Person
Tonight is Stargazing Night at Frosty Drew Observatory and the forecast is a disaster. We can expect t-storms this afternoon, followed by showers during the first hour of our geek out. Once showers move out, heavy fog will set in overnight. This will sadly keep our telescopes closed tonight. Due to the forecast of heavy fog in the area, we will also keep the Sky Theatre closed tonight. So take it easy tonight, catch up on a good book, or binge watch that television series you've been putting off. We will return to our regular Stargazing Nights schedule on Friday, May 4th at 8:30 p.m.
--------------------
Weekly Happenings
Scott MacNeill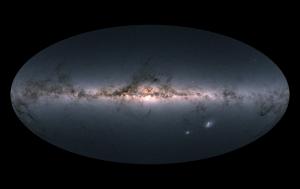 On Wednesday, April 25, 2018, the European Space Agency (ESA) Gaia Mission released its second data set, which is intensely comprehensive to say the least. The new data release contains high-precision measurements of nearly 1.7 billion stars in the Milky Way galaxy, creating the most robust star catalog to date. The ESA Gaia mission launched in December 2013 with the goal of computing a high precision parallax (how we measure the distance of nearby stars) of 1 billion stars in the Milky Way galaxy. This is the second data set released by the mission and accounts for a 22 month period of charting from July 25, 2014 – May 23, 2016. This new data set includes distances, positions, periodic motions, brightness information, and color measurements, of over a billion stars. Additionally, the positions of over 14,000 Solar System asteroids are included in the release, allowing for precise orbital determination. Though hardly explored, ESA has already created numerous tools and visualizations using the new data. Check out the visualizations and tools at the ESA, then gear up for a flood of discoveries just waiting to be found as the new data set evaluation continues. Go Gaia!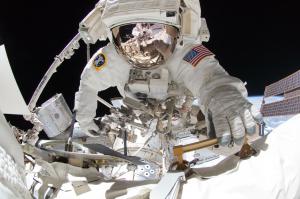 Starting Monday, April 30th and continuing daily until June 10th, the International Space Station (ISS) returns to the skies over the United States, with dozens of amazing passes, including a few days in mid-May with visible passes every 90 minutes from dusk to dawn. Since we are approaching the Summer Solstice, our daily period of nighttime continues to decrease, making it easier for the ISS to remain in direct sunlight while we, the observers, are in shadow. Initially (April 30 – May 19) all passes will happen in the morning hours, though becoming earlier each night, with additional passes becoming visible each day. Visit our homepage for daily passes of the ISS and other satellites applicable to Southern New England and largely the Northeast US. For pass times over your location, visit NASAs Spot the Station. We also wrote an article about why we see the ISS periodically during the year and not every night, catch up on all that. Now check in every day stating this Monday for daily pass information and celebrate humanity's only space based residence with a fabulous sight of the ISS passing over.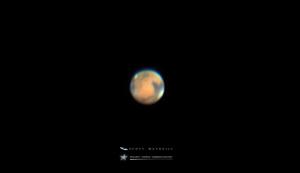 This summer we have many amazing planetary happenings in store for us sky watching geeks. Though all fabulous, the return of Mars to our playground will make for a stunning sight in the night sky as Mars will become bright enough to outshine Jupiter by nearly 1.8 times in brightness. This will temporarily make Mars the brightest object in the sky aside from the Sun, Moon, and Venus. We see this dramatic shift in Mars' brightness due to our orbital position around the Sun as it relates to Mars' orbital position. It takes Mars 687 days to complete one orbit around the Sun, that's about 43 days shy of two years on Earth. This will place Mars at opposition (on opposite side of the Earth than the Sun) once every two Earth years. Since Mars has a very elliptical orbit, about 5.6 times that of Earth's, Mars can end up a bit closer to Earth during the opposition period than previous years, or a bit further. In 2003, Mars crept up to about 34.8 million miles distant. In 2016, Mars slid in at 46.8 million miles distant during it's closest approach to Earth. This summer, on Tuesday, July 31st, Mars will swing by Earth at 35.8 million miles distant. That's remarkably close, though it doesn't mean that Mars will appear the same size as the Moon in our sky. That won't happen at any time this year or at any time in your life, so don't believe that pile of pants if it arrives in your inbox or your social media time-line. These close encounters will allow for a few weeks to a month or so of stunning telescopic views of Mars surface. The Frosty Drew Observatory telescope will certainly rock Mars this summer, though the best telescope in town to observe Mars at close approach will be the antique 12" refractor at Brown Universitys Ladd Observatory, which coincidentally opens freely on Tuesday nights. So put Mars on your list of summer time get-aways and have your mind blown!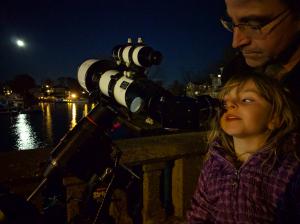 Save the Date: Sunday, April 29th will bring the Full Pink Moon, which means Lights in the Dark's Jason Major and Frosty Drew Observatory's Scott MacNeill will be setting up telescopes on the bridge in Pawtuxet Village at sunset for a session of sidewalk astronomy. If you need a quick astro-bump, this is your chance. Note, there is an ice cream shop about 50 feet from where we setup.
-Scott