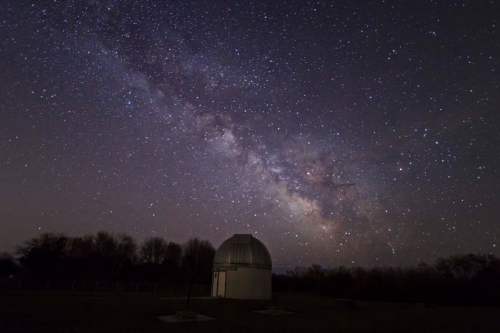 Summer Stargazing Nights
Where:

Frosty Drew Observatory

When:

Friday August 3, 2018 at 6:00 p.m

Cost:

$5 Suggested Donation per person 5 years and older
Tonight is Stargazing Night at Frosty Drew Observatory and forecasts are all over the place, again. At this time pretty much anything can happen tonight, it's totally best guess scenario. From what we can gather it looks like fog will be the likely condition of the night. Dew points are high are so are temps. Though we may have clearings enough to catch site of the planets, it will be hot and sticky. Additionally, the annual Seafood Festival will be taking place in Ninigret Park tonight, which will bring an increase in light pollution as well as an increase in traffic. The 62% waning gibbous Moon will rise at 11:48 p.m. keeping skies super dark until moon rise, though the additional lights and potential for fog and clouds in the forecast will make for little chance of catching any views of the Milky Way tonight.
We will open the Observatory and Sky Theatre at 6:00 p.m. this afternoon. In the Observatory courtyard, if skies are clear enough, we will setup our hydrogen alpha telescope, showcasing views of the solar chromosphere and any activity that is visible. Once the Sun sets, Observatory telescopes will showcase Jupiter's moons, Saturn's rings, and Mars' dust storm. If skies are acceptable enough, binary stars, nebulae, and star clusters will also be on display. In the Sky Theatre we will feature our showcase of celestial objects photographed at Frosty Drew Observatory and will offer a commentary if weather crashes our view. We will stay open until 11:30 p.m. or until clouds chase us out, whichever comes first. Check in on our Twitter (@FrostyDrewOBSY) or the right column of the Observatory page for updates on what is happening at the Observatory, including a "Closing up" post when we decide to pack it up.
Overall, tonight is not the best night to be out. We have good conditions as far as the cosmos goes, though weather and local conditions will make for difficult viewing of the Milky Way. The extra lighting will not affect our view of the planets and thin clouds or light fog could make for excellent viewing of Saturn, Jupiter, and Mars. So if the Milky Way is your dig tonight, you may want to sit this one out, though if you are feeling risky and want to try for a fabulous view of Saturn's rings, Jupiter's equatorial bands, or Mars at near closest approach, then tonight is potentially your night.
Also note that the Seafood Festival in the park will have parking attendants setup for their event along Park Lane and will be stopping traffic en route to Frosty Drew Observatory. Kindly inform them that you are visiting Frosty Drew Observatory and they will let you pass. You do NOT have to pay for parking to visit Frosty Drew Observatory tonight!
------------------------
Weekly Happenings
Scott MacNeill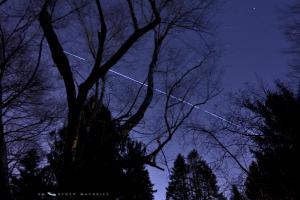 Over the next 8 days, we will have spectacular passes of the International Space Station (ISS) happening over the Northeast US. After August 10th, nightly passes of the ISS will stop for a couple weeks and pick up again in the morning hours starting on August 27th. The next several days will be the nights to step outside and catch a fabulous view. Here are some passes we think will be awesome (all passes listed are in EDT):
August 3 → starting at 9:31p.m. in NW, rising to 37°, heading towards the ENE
August 4 → starting at 8:40 p.m. in WSW, rising to 25°, heading towards the E
August 4 → starting at 10:16 p.m. in WNW, rising to 44°, heading towards the W
August 5 → starting at 9:24p.m. in NW, rising to 80°, heading towards the ESE ← AWESOME PASS!
August 6 → starting at 8:32 p.m. in NW, rising to 44°, heading towards the ESE
August 7 → starting at 9:17 p.m. in WNW, rising to 41°, heading towards the SSE
August 8 → starting at 8:24p.m. in NW, rising to 81°, heading towards the SE ← AWESOME PASS!
August 10 → starting at 8:17 p.m. in WNW, rising to 31°, heading towards the SSE
These pass times are applicable for Southern New England and largely the Northeast. For pass times over your location, visit NASAs Spot the Station. To learn about how the ISS orbits Earth and why we only see it periodically and not every night, check out our article on viewing the ISS. If you catch a photo of the ISS passing, be sure to post it on our Facebook and we'll share it on our time line.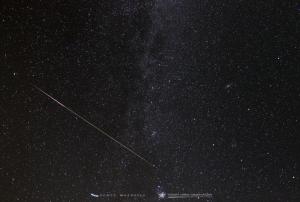 The annual Perseid Meteor Shower peak will be blazing the skies on August 11-13, 2018 and Frosty Drew Observatory will open both Saturday, August 11th and Sunday, August 12th, weather permitting, for the event. Though meteors will be visible on both nights, overnight Sunday into Monday morning will be the best night to be out, with the peak occurring around 10:07 p.m. ET on Sunday, August 12th. The Perseids are one of the most notable meteor showers of the year, which is the result of Earth passing through a debris field left behind by comet 109P/Swift-Tuttle. Discovered in 1862 by Lewis Swift and Horace Tuttle, comet 109P was identified as the source of the Perseid shower in 1865. The comet has a 133 year orbit around the Sun and made its last visit to the inner solar system in 1992. Meteor showers are named after the constellation that their meteors appear to radiate from. This is called the "radiant point". The Perseid shower radiates from the constellation Perseus, visibly about half way between the constellations Perseus and Cassiopeia near the naked eye visible Perseus Double Cluster. Since Perseus will rise around sunset, the radiant point will be about 37º above the horizon at 1:00 a.m. during the peak dates of August 11-13th and rising higher over the course of the night, eventually passing overhead. This places the radiant point at an excellent place for viewing. It's important to note that our Perseid events are not Stargazing Nights. We will have the Observatory telescope open from 8:30 p.m. until about 10:00 p.m., after which the dome will be open but the telescope will be closed. We do this because we want to observe the meteor shower, which is not possible inside the observatory dome or through a telescope. We may have a couple telescopes setup outside, depending on meteor activity. At this time, everything looks awesome for the meteor shower, all we need is for weather to stop being the sandbox bully and ruining everybody's fun. Read about the event and gear up for what could be an unforgettable night of shooting stars!
-Scott