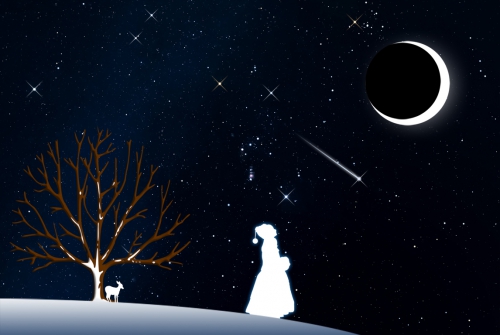 Stargazing Nights
Where:

Frosty Drew Observatory

When:

Friday January 18, 2019 at 7:00 p.m

Cost:

$5 Suggested Donation per person 5 years and older
Tonight is Stargazing Night at Frosty Drew Observatory and forecasts are confused at this point regarding tonight's weather. Which falls in line with what we have been generally seeing from weather forecasters lately. There will be some sort of cloud cover tonight, though it's anybody's best guess on how much there will be. From what we can tell by digging into the data a bit, it appears that we will be under thin cloud cover, like a heavy haze for most of our viewing session. Being that we have a 91% waxing gibbous Moon with us nearly all night, we should be able to score a hazy view of the Moon through the thin cloud cover. If clouds are thin enough, bright binary stars will be visible as well. It's also important to note that with the coming storm and the near Full Moon, we are setup for a fabulous 22° lunar halo tonight!
We will open the Observatory and Sky Theatre at 7:00 pm tonight. In the Observatory, telescopes will start off on standby as we evaluate sky conditions on site. If acceptable, we'll start off with a view of the gibbous Moon, followed by a tour of binary and double star systems. Including an attempt at viewing the planet Uranus. In the Sky Theatre, temps will be warm, and on screen will be our regular feature of celestial objects photographed at Frosty Drew Observatory. We'll stay open until 11:00 pm or until clouds shut us down. Following us on Twitter (@FrostyDrewOBSY) will get you updates from the Observatory on what we are seeing, including a "Closing up" post when we decide to pack up. You can also read our latest tweets on the right column of our website.
Overall, tonight is a questionable night, for a couple reasons. First, forecasts are all over the place, so we are unsure how cloudy it will actually be. Secondly, the Moon is nearly full, which will make for challenging views of anything aside from the Moon, due to copious amounts of moonlight brightening up the sky. Though the bright moonlight could be our score tonight with potential visibility through thin cloud cover, coupled with the likelihood of a stunning 22° lunar halo. If the Moon is your digs, then this could be the night for you. If driving a long distance to visit, then we would consider this a night to skip. Regardless, we are in eclipse crazy mode and if you're looking to get your geek on with us about the eclipse, then stop in and freak out about the weather.
--------------------
Weekly Happenings
Scott MacNeill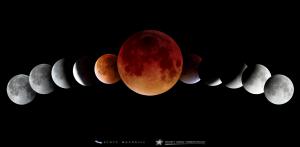 This coming Sunday, January 20, 2019, overnight into Monday, a fabulous Total Lunar Eclipse is coming to the US (if you are first hearing about this now, then it's time to deal with that science deficiency in your daily beat). At Frosty Drew Observatory, we are in full swing eclipse mode, with plans to geek out all night with the stunning celestial event. Unfortunately, the old New England adage - "awesome celestial events + clouds + New England = inseparable", looks to be gospel. Though we remain optimistic that a good view may prevail, even with the forecast for heavy rain, heavy snow, ice, fog, high winds, intense gusts, single digit temps, subzero wind chills, and coastal flooding due to to intense storm tide; because our enthusiasm borders on zealotry. As for the eclipse, there are a few other attributes that we can assign to this event, aside from "total" and "eclipse", which the internet has certainly been reveling in. The Full Moon will occur at 12:16 am EST on January 21st (during maximum eclipse) and the monthly lunar perigee (closest the Moon will orbit to Earth in it's 27.3 day orbit) will occur about 14.75 hours later at 2:59 pm, January 21. So we can call this a Supermoon. The common name for the January Full Moon is the Full Wolf Moon. Like the internet hype machine, we can refer to the Full Moon this month, as a Super Totally Eclipsed Full Wolf Moon. Regardless of what you call it, the event will be spectacular for all those who get to see it. At Frosty Drew Observatory, we will send out an update about our plans for the night on Sunday afternoon before 2:00 pm. Until then, keep hoping.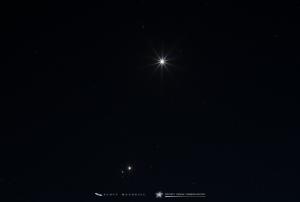 Starting tomorrow morning (January 19, 2019) and continuing every morning this week, Jupiter and Venus will be putting on a fabulous dance, with repeated conjunctions happening in the early morning sky before sunrise. This is a sight that will be easily visible to any commuter that is out before sunrise. The best mornings to observe these conjunctions are Tuesday, January 22nd and Wednesday, January 23rd. On those mornings, Venus will be visible at just over 2° distant from Jupiter in the SE sky. Venus will appear much brighter than Jupiter, and will be the object on the top or left of Jupiter (depending on viewing date). The best times to catch views of the conjunction will be between 5:45 am – 6:15 am. If you happen to catch a photo of the conjunction, post it on our Facebook and we'll share it on our time line.
Starting Monday, January 20, 2019, the International Space Station (ISS) returns to the evening sky over the US. In the Northeast, we will have spectacular visible passes of the ISS happening nightly until February 12, 2019. The best passes happening this week over the Northeast are as follows:
Mon, Jan 21 at 6:55 pm EST, starting in the SW, rising to 30°, heading towards the SW.
Tues, Jan 22 at 6:04 pm EST, starting in the SSW, rising to 35°, heading towards the E.
Wed, Jan 23 at 6:49 pm EST, starting in the WSW, rising to 46°, heading towards the WNW.
Thu, Jan 24 at 5:57 pm EST, starting in the SW, rising directly overhead. ← This is a fabulous pass!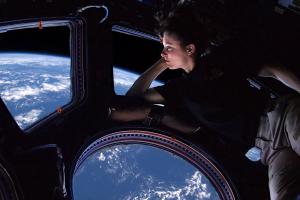 Daily pass times of the ISS and other bright satellites are available on our website. These passes, as well as those listed above, are applicable to Southern New England, and generally acceptable for the Northeast USA. For specific pass times over your location, visit NASAs Spot the Station. Then take a moment to read up on why we only see the ISS periodically over the year and not every night. Now get out and see humanity's only space based residence zooming by.
-Scott