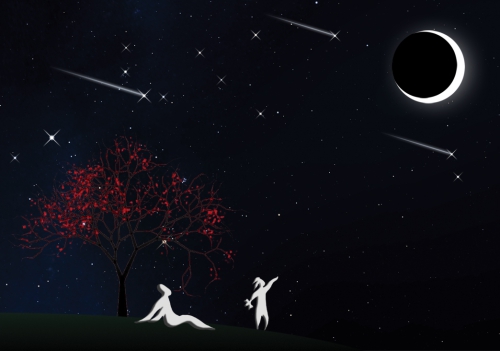 Stargazing Nights
Where:

Frosty Drew Observatory

When:

Fri, Oct 4, 2019 7:00 pm - 11:30 pm

Cost:

$5 Suggested Donation per person 5 years and older
Tonight is Stargazing Night at Frosty Drew Observatory and forecasts are calling for clear skies and cool temps. There is a threat of wind gusts that could reach into the 22mph range, which may restrict our viewing to only one side of the sky. Additionally, the intense temperature drop tonight will make for difficult seeing conditions in our telescopes. Regardless, it is still a good night to be out, with less mosquitoes plaguing our geek out. The 40% waxing crescent Moon will be out until 10:41 pm, showing off a stunning Earthshine, which is when sunlight reflects off Earth and illuminates the shadow side of the Moon. It may be a bit breezy, but the skies will be awesome!
We'll open the Observatory, Sky Theatre, and Science Center at 7:00 pm tonight. In the Observatory, telescopes will start with a quick view of Jupiter, showing three of the four Galilean Moons. After which, Saturn will rock the main telescope. For those looking to see Jupiter, you will need to be on site early as views will not be available later in the night. Courtyard telescopes will showcase the crescent Moon as well as binary stars. In the Sky Theatre, we will show our regular feature of celestial objects photographed at Frosty Drew Observatory. In the Science Center we will continue showing the works of Frosty Drew Observatory Director, Scot MacNeill on gallery. We will stay open until 11:30 pm.
Overall, tonight looks like a good night. The skies will be clear and the crescent Moon will hang beautifully among the stars. The Milky Way may be dimly visible among moonlight, though we are no longer in our Milky Way viewing season, so views are not what you may expect. Tonight's issues come down to a chance for wind and the fast temperature drop. Winds are less of our concern because they may not be that intense, if so, it may restrict our views away from Jupiter. The temperature drop will make for difficulty keeping focus in our telescopes and could result in rather blurry views of the objects we are observing. Regardless, it is a fabulous autumn night to be out under the stars. So stop in and celebrate the season with a night of astronomy and become acquainted with the cosmos at Frosty Drew Observatory tonight.
------------------------------
Weekly Happenings
Scott MacNeill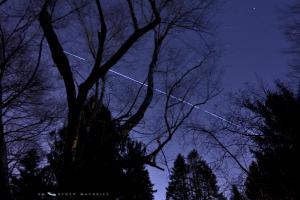 With only one week left of evening passes of the International Space Station (ISS) over the US for the current cycle, now is the time to get out and catch a fabulous view. Numerous excellent passes will be happening this week over the Northeast. Here are some of the better passes to see this week:
Fri, Oct 4 at 8:00 pm, starting in the NW, rising to 40°, heading towards the NNE and into Earth's shadow
Sat, Oct 5, at 7:12 pm, starting in the NW, rising to 28°, heading towards the ENE
Sun, Oct 6 at 8:00 pm, starting in the WNW, rising overhead, heading towards the SSW and into Earth's shadow
Mon, Oct 7 at 7:11 pm, starting in the NW, rising to 61°, heading towards the ESE and into Earth's shadow
Tue, Oct 8 at 8:00 pm, starting in the WNW, rising to 26°, heading towards the SSW and into Earth's shadow
Wed, Oct 9 at 7:11 pm, starting in the WNW, rising to 47°, heading towards the SE
These pass times are specific to Southern New England and are generally applicable to the Northeast. Put these times on your calendar or your alarm clock, so you don't miss out. While you are at it, read our article on the ISS, which explains why we only see the Station in cycles, instead of all the time. You can catch daily ISS, and other satellite, pass times on the Frosty Drew website. For ISS pass times specific to your location, visit NASAs Spot the Station. Now get out and spot humanity's only space based residence!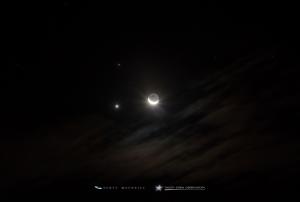 Among all the happenings tomorrow night, Saturday, October 5, 2019, a fabulous conjunctions of the first quarter Moon and Saturn will occur. From sunset until the 11:20 pm moon set, Saturn will sit just less than 1° above the Moon in the sky. Conjunctions happen quite frequently and are the result of either one, or more celestial objects that change their position in the sky on a regular basis. Objects like the Moon and planets. These objects orbit either the Sun or Earth at different rates and will appear to come together when viewing outward from Earth. Aside from putting on a fabulous show for us, they have no cosmic significance. Though occasionally an object like Mars, which is quite red, will end up in conjunction with a star like Regulus or Spica, which are both quite blue, and the colors will contrast, allowing for a vividly colorful view. Conjunctions do happen quite frequently, though they never get old. So take a moment tomorrow night to step out and catch Saturn and the Moon putting on their celestial dance.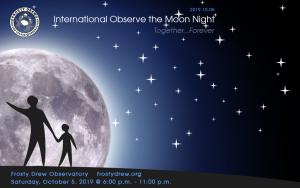 Tomorrow, Saturday, October 5, 2019 is International Observe the Moon Night. This is a planet wide celebration of the Moon. Thousands of science institutions, schools, museums, and libraries will be hosting special events tomorrow to showcase Earth's only natural satellite, the Moon. Frosty Drew Observatory will, of course, join in the celebration, and host a night of special lunar celebrations and activities. Forecasts are looking amazing at this time with clear skies, cool temps, and calm winds set up for us. Our event will run from 6:00 pm – 11:00 pm, and will include numerous telescopes focused on the Moon. The primary Observatory 16" telescope will showcase the Lunar X, the Lunar V, and other notable regions on the Moon with high magnification. In the Observatory courtyard, we will have a telescope showing a wide field view of the Moon, another telescope showing everything but the Moon, and possibly another telescope with a super wide field view of the Moon. The Lunar Lounge will be setup on the NW side of the Sky Theatre building, and on screen will be a live projection of the Moon in conjunction with Saturn from a telescope. In the Sky Theatre, NASA Solar System Ambassador, Frank Puglia will present about the Moon, with sessions repeating throughout the night. In the Science Center we will have a 12 foot wide panorama of the Apollo 11 Landing Site, photographed by the NASA Lunar Reconnaissance Orbiter (LRO) on display. The Observatory 40" panel, as well as other screens around the campus will feature images and videos about the Moon. It will be a fantastic night to be out and certainly a night for anybody who is crazy about the Moon. Check out our event page, then check out the official website for International Observe the Moon Night. We'll see you all out tomorrow night for a special night under the Moon!
-Scott
Check out our page on Visiting Frosty Drew Observatory to learn more about what to expect at the Observatory and better help you prepare for your visit.
Please note that we do not allow any white lights on our campus from dusk - dawn. This is to ensure an equally awesome view of the night sky for all and to allow for the use of light sensitive astronomical equipment. Learn more about why we have this requirement in The Red Light District
To allow for visitors to freely explore all of the amazing experiences at Frosty Drew Observatory without having to wait in long lines, we have integrated a pass-based group access process that applies to only the large telescope inside the observatory dome. Take a moment to familiarize yourself with this process as part of your planning steps.