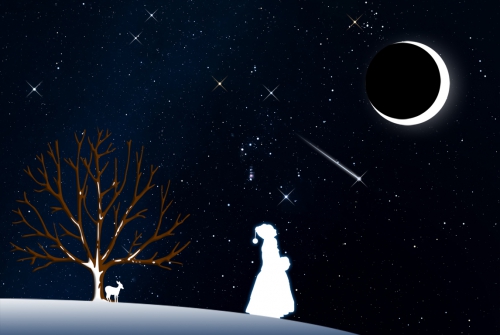 Stargazing Nights
Where:

Frosty Drew Observatory

When:

Fri, Jan 17, 2020 7:00 pm - 10:00 pm

Cost:

$5 Suggested Donation per person 5 years and older
Tonight is Stargazing Night at Frosty Drew Observatory, and forecasts are calling for the type of conditions we would normally expect on a January night. Clear skies are in full swing for us tonight, as well as frigid temps! Considering that the 37% waning crescent Moon does not rise until 12:56 am, we are in store for a night of super dark skies. Due to the huge temperature swings over the last five days, seeing conditions (atmospheric distortions that obscure our view in the telescope) are not all that great, but that really affects planetary viewing the most, which is not on our list tonight. Regardless, clear skies with no Moon is always an awesome thing at Frosty Drew!
We will open the Observatory, Sky Theatre, and Science Center at 7:00 pm tonight. In the Observatory, telescopes will start off with views of the fabulous Orion Nebula, followed by a view of NGC 2392 – the formation of a white dwarf star. As the night progresses, we'll rock the super dark starscape in search of nebulae and star clusters that are only visible on the darkest nights. On tonight's list are the Messier 41 open star cluster, Messier 46 open star cluster, R-Lepus – a carbon star, Herschel 3945 double star, the Medusa Nebula, NGC 2359 – a Wolf-Rayet star, Hubble's Variable Nebula, the Triangulum Galaxy, Hind's Variable Nebula, Bode's Galaxy, and Comet C/2017 T2 PANSTARRS. We also have the Delta Cancrid Meteor Shower peak happening tonight, which is not all that spectacular, but can bring an increase of about 4 meteors per hour to the night's regular meteor activity. In the Sky Theatre temps will be warm and onscreen we will show celestial images previously captured at Frosty Drew Observatory. In the Science Center temps will be warm as well and on gallery will be the astro-photography of Frosty Drew astronomers. We'll stay open until 10:00 pm.
Overall, tonight is certainly the night to make the drive! We can expect clear skies with no Moon until the morning hours, which will offer up super dark skies to celebrate. It will be cold, remarkably cold, with temps hanging around 20°F and wind chills sitting around 11°F. On nights like this, it is a requirement for visitors to dress appropriately, not only for your safety (which is a true consideration), but also for the quality of views in the telescope. Visitors that are not dressed properly will radiate their heat right out the observatory dome opening, through the telescope's field of view, which will wreak havoc on local seeing conditions. We wrote a primer on how to dress for cold nights at Frosty Drew Observatory. Read it! Night's like tonight are why we wrote it. So gear up and head out into the dark, and set your inner geek loose at Frosty Drew Observatory tonight.
---------------------------
Weekly Happenings
Scott MacNeill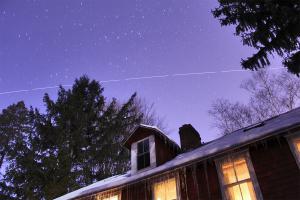 Starting tomorrow evening, Saturday, January 18, 2020, the International Space Station (ISS) will return to the evening skies over the USA, specifically the Northeast, offering up visible passes nearly every night through February 10th. Though notable passes will not begin until Monday evening, January 20, 2020. The ISS continues to be humanity's only continuously inhabited space-based residence, which currently hosts the Expedition 61 crew comprised of six crew members. Observing the ISS passing over head requires a clear enough sky, darkness, and for the station to be passing overhead while still in sunlight. Being that the ISS orbits Earth inclined 51.6° to Earth's equator, these viewing requirements are not always met, resulting in periodic views of the ISS, either in the evening, pre-dawn morning, or not at all. Here are the most notable passes for this week, the ones you don't want to miss:
Jan 20 at 6:35 pm, starting in the SW, rising to 64° before entering orbital sunset
Jan 21 at 5:47 pm, starting in the SSW, rising to 40°, heading towards the ENE before entering orbital sunset
Jan 22 at 6:36 pm, starting in the WSW, rising to 43° before entering orbital sunset
Jan 23 at 5:48 pm, starting in the WSW, rising to 70°, heading towards the NE before entering orbital sunset ← Awesome Pass!
Set your alarm or put these times on your calendar and catch all notable passes this week. Check out our article on viewing the International Space Station, and catch up on what's happening with the station. Keep in mind that these pass times are specific for Southern New England, and are acceptable for the Northeast. You can also get daily pass times for notable satellites, including the ISS, for the same region on the Frosty Drew Observatory website. For pass times specific to your location, visit NASAs Spot the Station. Now get out and catch an unforgettable view of the ISS orbiting over our region.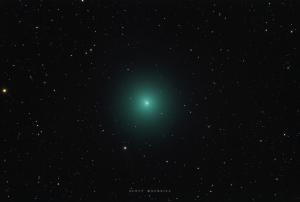 Every year, during the December – January time frame, we usually get a pretty decent comet to view. Though not a comet necessarily as awesome as Comet C/1995 O1 Hale-Bopp (the first comet I remember), but still good enough to view in telescopes, binoculars, and of course to image. Last year during this period we had the fabulous Comet 46P/Wirtanen, which offered up stunning views through the holidays. Skip ahead to this year, and it's been a bit quiet on the comet front. Though fret not, we may have a late-to-the-show visitor, a comet that could become quite spectacular this winter-spring. Comet C/2017 T2 PANSTARS (Comet T2), has been growing brighter with each passing night and is now considered a dim binocular target (though I'm not sure I would classify it as such just yet). Currently found in the constellation Perseus, the comet is extremely well placed for observation in the Northern Hemisphere. Recent images of Comet T2 show a nice tail forming as well as a bright coma (tenuous atmosphere that forms around the comet's nucleus, due to the comet encountering the solar wind). Comet T2 made its closest pass to Earth on December 29th, though it will not reach perihelion (closest to the Sun) until May 4, 2020, which is when it will be the most active. Though Comet T2 has a rather wide perihelion and will make its closest approach to the Sun at 1.615 AU (150,124,000 miles) distant. This could allow for excellent viewing of the comet as it approaches the Sun. Though due to Comet T2's inclination and orbital position, we are now entering the brightest period of viewing, a period that will last past perihelion. Considering the comet is very well placed right now, we may be in the best window for views this month and next. Over the next two weeks we will continue to monitor Comet T2 while the Moon is out of the way.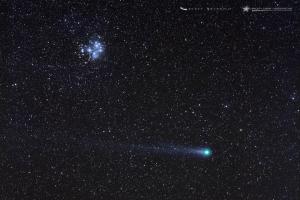 If we think the comet is bright enough for easy viewing with backyard telescopes and/or binoculars, we will post finder charts to our Facebook, Twitter (@FrostyDrewOBSY) and website, as well as images that we capture! During this time the comet will be moving through the constellation Perseus and into Cassiopeia. For now, you can grab a daily star chart. If you catch a pic of the comet, share it to the Visitor Posts section of our Facebook page and we'll share it on our timeline.
Check out our page on Visiting Frosty Drew Observatory to learn more about what to expect at the Observatory and better help you prepare for your visit.
Please note that we do not allow any white lights on our campus from dusk - dawn. This is to ensure an equally awesome view of the night sky for all and to allow for the use of light sensitive astronomical equipment. Learn more about why we have this requirement in The Red Light District
-Scott