Great American Solar Eclipse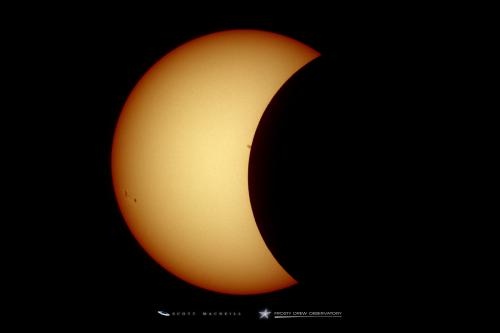 In this shot we captured, the partial eclipse is well underway with about 40% of the Sun eclipsed. Additionally, sunspot groups AR 2671 and AR 2672 are visible. This image was captured at 2:11 p.m.
On Monday, August 21, 2017 the Great American Solar Eclipse happened over Frosty Drew Observatory. Though not a total eclipse at our location, we experienced a fabulous 66.5% partial eclipse. The eclipse began at 1:27 p.m. and continued until 4:01 p.m., with greatest eclipse happening at 2:47 p.m. The event brought thousands out to Frosty Drew Observatory to celebrate the eclipse.
Author:

Entry Date:

Aug 25, 2017

Published Under: