Milky Way Galaxy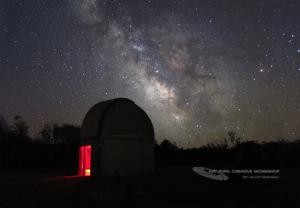 The Milky Way Galaxy rising over Frosty Drew Observatory.
Camera: Canon S95 (CHDK) with custom Intervalometer
Multiple exposure image: Composite of sky photos with camera attached to clock drive layered with a second shot of the landscape.
f/2
ISO: 800
Exposure: sky set: 20.26 minutes (19 64 second exposures), landscape: 13 seconds
Photograph by: Scott MacNeill
Frosty Drew Observatory and Ninigret Park in Charlestown, Rhode Island (where Frosty Drew Observatory resides) have a remarkably dark sky overhead and the Milky Way galaxy is mesmerizing to look at there on clear, moonless nights.
This gallery will showcase shots of the Milky Way that we or our members and contributors have taken in the park.
Author:

Entry Date:

May 25, 2018

Published Under: