Perseid Meteor Shower of 2013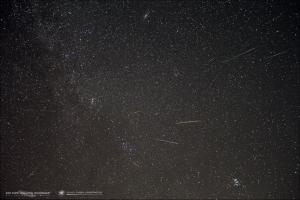 A shot of nine Perseid meteors originating from the constellation Perseus. I snapped this composite photo a few hours ago this morning at Frosty Drew Observatory.
In this shot aside from four Perseid meteors is the Perseus Double Cluster, Andromeda Galaxy, Pleiades star cluster, constellation Cassiopeia, constellation Perseus, among others.
-Scott MacNeill
The Perseid meteor shower of 2013 is setup to be fantastic. Here are a collection of photos taken at Frosty Drew Observatory of the 2013 Perseids.
Author:

Entry Date:

Aug 15, 2013

Published Under: