Binary & Multi Star Systems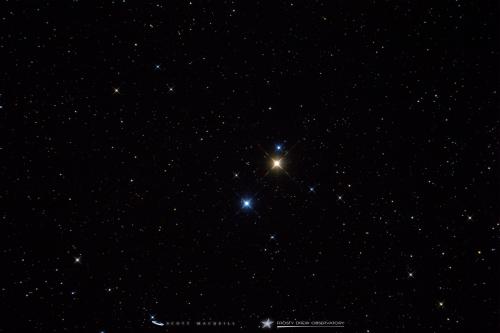 31 Cygni, residing in the constellation Cygnus, is a fabulous optical trinary system. Each star, though appearing to be interacting with each other, reside at significantly different distances from Earth and consequently, each other. The primary star in the group sports a stunning red and resides at 881 light years distant. The second brightest star in the group is 30 Cygni, which resides at 615 light years distant. The third star and dimmest of the group resides at 1359 light years distant and shows off a striking blue.
We snapped this shot at Frosty Drew Observatory during our Stargazing Night on September 11, 2015. 31 Cygni is visible all summer and autumn in New England.
Binary stars and multiple star systems are comprised of two or more stars that share a gravitational equilibrium and orbit around that gravitational center. Many of the stars we see when we look to the night sky are actually the combined light of multiple stars that make up the system. Single star systems, like the Solar System, are less common than multiple star systems.
Here is a collection of photos we have captured of binary and multiple-star star systems.
Author:

Entry Date:

Jun 10, 2016

Published Under: