Conjunctions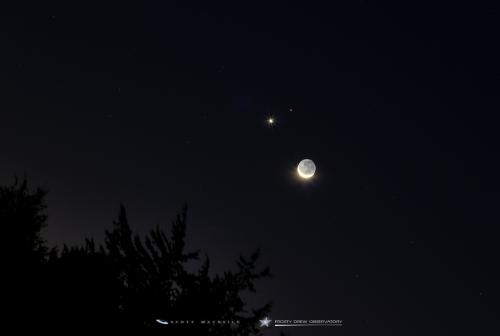 During the later half of February 2015, Venus and Mars had begun their celestial dance in the Western skies during the twilight hours. Venus has been rising a little higher off the Western horizon every night as we move into the warmer seasons and Mars is making its way out of view. On Friday February 20th, Venus and Mars were one night away from their closest visible point and the super thin 4% waxing crescent Moon joined the party.
Here is a shot we snapped of the fabulous conjunction on Friday February 20th at Frosty Drew Observatory!
-Scott
Conjunctions happen when planets, stars, the Moon and other celestial objects appear to align from Earth's view point and form familiar shapes. These alignments are not that uncommon and happen quite frequently though out the year. This is a collection of photos we have captured at Frosty Drew Observatory of many fascinating conjunctions visible in the starscape overhead.
Author:

Entry Date:

Nov 8, 2015

Published Under: