Perseid Meteor Shower 2015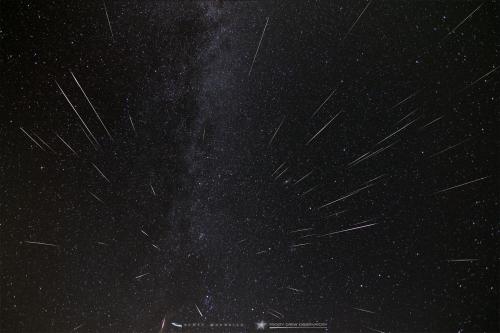 August 13-15, 2015 we setup on the Frosty Drew campus to observe and capture the highly anticipated 2015 Perseid Meteor Shower. We tracked the shower radiant point (in Perseus) for three nights and combined every meteor shot we captured into this complete composite. This shot showcases 57 Perseid meteors radiating from the shower radiant point.
-Scott
On Thursday, August 13, 2015 the annual Perseid Meteor Shower peaked over Frosty Drew Observatory in Charlestown, Rhode Island. Continuing for the next three days, the Perseids mesmerized hundreds of sky watchers that descended to the Frosty Drew campus. We tracked the radiant point of the Perseid shower in the constellation Perseus for 5 hours each night over the three nights. Here are the resulting photographs we captured of the fabulous meteor shower.
-Scott
Author:

Entry Date:

Aug 18, 2015

Published Under: