Solar Minimum Endures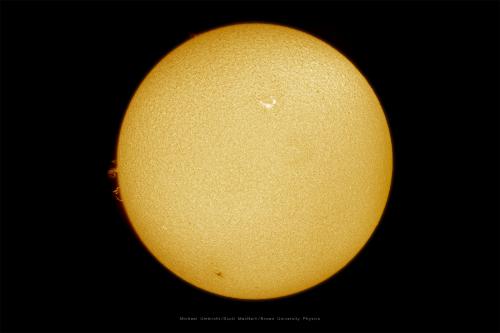 A rather quiet view of the solar chromosphere, captured during cycle 24 Solar Minimum. Credit: Michael Umbricht / Scott MacNeill / Brown University Physics
Since my last update on the Sun's Deep Minimum persistence, sunspot activity on the solar disk continues to be low. Here is the data for the last five years:
Year    Spotless    Percentage Days
2019    281        77%
2018    221        61%
2017    104        28%
2016     32         9%
2015      0         0%
Beginning on January 1, 2020, one group of sunspots was of the new Cycle 25 and was present on the solar disk for nine days. It was a new cycle region because it formed at a high latitude on the solar surface and its magnetic polarity was reversed from Cycle 24. The most individual spots that appeared on any given day during the nine-day run was three.
Spot activity then ceased for 14 days with the Sun being spotless once again.
Then for another nine-day period beginning on January 24, an old Cycle 24 spot group formed. This activity was followed by 34 spotless days, after which a new Cycle 25 group formed and lived for just three short days.
This back and forth of the appearance of new and old solar cycle spots is typical of cycle transition. It is important to note that near the end of one cycle and the beginning of the next, spot groups of both polarities may and do coincide.
Beginning on March 10 there were eight spotless days. Then a single spot group formed and only survived for one day. It was a new Cycle 25 spot. Eleven spotless days followed. The last two days of March ended with another new Cycle 25 spot group.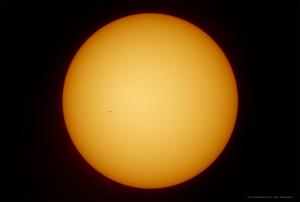 While the appearance of reversed magnetic polarity spots seems to be increasing, who knows what our life-giving star has in store for us in the near future.
As I mentioned a few months ago, it is important to monitor our Sun's activity. Whether solar activity is high or low, extreme ranges in either direction can pose serious risks to life on our precious Earth. A recent report on SpaceWeather.com reported that cosmic rays are intensifying because during high solar activity coronal mass ejections (CMEs) protect the Earth from this hard radiation, and during solar activity decline the cosmic rays reach Earth and penetrate deep into our atmosphere. In addition, Earth's weakening magnetic field lines are also contributing to increased cosmic ray incursion. The article stated, "Commercial flight crews traveling over Earth's poles experience as much as 12% more radiation than they did just a few years ago."
Coronavirus or cosmic rays. We humans can't seem to catch a break.
Keep your eyes to the skies and be well.
Dave Huestis
Author:

Entry Date:

May 5, 2020

Published Under: