Celebration of Space - June 12, 2020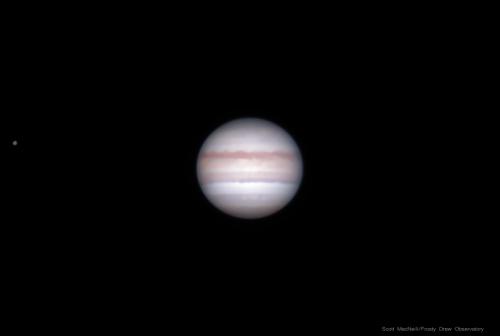 Jupiter and its moon Io in 2019 at Frosty Drew Observatory.
Over the past couple of weeks, Jupiter and Saturn, which will be in conjunction for most of the year, have started to rise before midnight. This makes viewing a bit more accessible to those who are not up at 3:00 am. As we continue to move towards the July opposition of both of these planets, rise times will continue to get earlier and earlier. Once opposition happens, the planets will be above the horizon at sunset. Since Jupiter will pass Saturn in their orbits this year (December 21, 2020) both planets will remain quite close to each other from our viewing perspective. This will offer up numerous fantastic viewing opportunities of Jupiter, with its four Galilean Moons, and several large storms including the Great Red Spot; and Saturn with several of its moons, and those fabulous rings. Once the planets start rising a little earlier, they will be regular sights during the Frosty Drew Summer Stargazing Nights.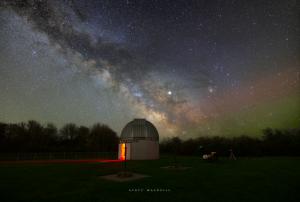 With the Moon rising well into the morning sky and rising later with each passing day, we are moving back into the period of the month where views of the Milky Way can be easily had. Currently, the Milky Way will become quite visible after 11:30 pm at Frosty Drew Observatory, with rise times becoming earlier each night. Our second Celebrate the Milky Way special event is planned for next Saturday, June 20, 2020, which will get you a chance to see the Milky Way with your own eyes. At this time, we are going to attempt to open on that night, though we are still yet to post details, which will be available here. Regardless, now that Ninigret Park is open to the public (with social distancing measures required), you can visit the park to check out the Milky Way. If panning such a visit be sure to
read our statement regarding the current global lockdown as well as the Visiting the Observatory page.
-Scott
Author:

Entry Date:

Jun 12, 2020

Published Under: