Mara DeCesare - Our 2020 Summer Intern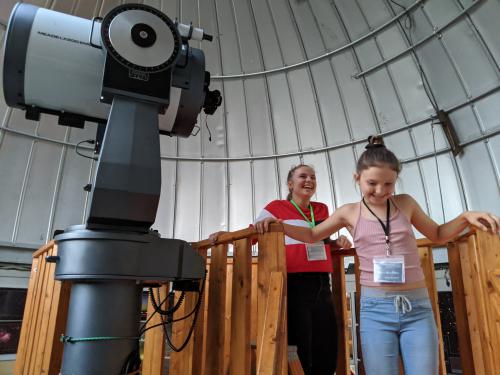 Mara preparing the Frosty Drew Observatory telescope for public operations, while having fun with Unity.
Now that the summer 2020 season at Frosty Drew Observatory has come to an end, we are back to our regular Stargazing Nights events. Though it was a rather interesting and unprecedented summer season at Frosty Drew Observatory, I feel we were able to successfully accomplish our mission to enlighten, discover, inspire- through education and research- knowledge about science, the night sky, and the universe. Our Summer Internship Program, also saw some interesting challenges due to the pandemic, which resulted in us only bringing on one intern for the 2020 program.
Mara DeCesare, coming to us from Worcester Polytechnic Institute (WPI), is studying for her undergraduate degree in Physics. Mara was selected for an internship days before the pandemic lock down commenced. Event though the lock down made for a delayed start to the program, Mara easily became a valued member of our team. For those of you who visited this past summer, you probably met Mara as she operated the primary Frosty Drew Observatory telescope in the dome for our Summer Stargazing Nights. What you did not see was Mara participating in several nights of telescope setup, data collection, and data processing on the nights we are not open to the public. Including a top notch result on her final project.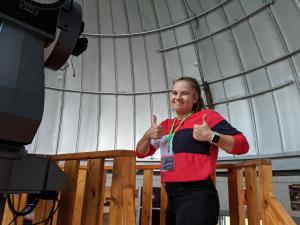 For Mara's final internship project, she had to choose a celestial object to study. We do not limit our interns on objects, and only help them make the best choice. Once selected, Mara led the project, with our astronomers serving as her assistants. The project includes setting up a research mount and telescope, precise calibration and alignment of the mount and telescope, several nights of data collection, and creation of calibration frame data. The second part of the project is the lab portion, which required Mara to reduce all captured data sets, and pre-process the raw data into clean, usable science data. The final step is the creation of an aesthetically pleasing version that can be used for public outreach.
Mara put a true best effort approach into her project. She chose Messier 31 – The Andromeda Galaxy as her target of study. She had quite an impressive list that she initially put together, but ultimately ended up choosing Andromeda. Mara was a model intern, in that she learned from her mistakes. We also noted that Mara was able to shift from chill mode into learning mode on the fly, with a very noticeable difference in her personality between both modes. Additionally, we offered Mara a chance to make part of her project much easier, using a piece of modern technology that may not produce as pure of a result. Though Mara chose to do it like a purest and went with data collection, wavelength by wavelength. After one failed attempt, she perfectly set up her data collection equipment and collected fabulous data sets.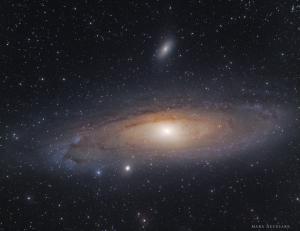 The entire project was quite refreshing to work on with Mara as she learns so quickly and truly loves what she does! Mara is back at school now and has successfully completed her internship. She remains a Frosty Drew team member and will likely be back during breaks from school. Check out the result of her summer project This is the Andromeda Galaxy including two satellite galaxies – M32 at the bottom, and M110 at the top. We will miss Mara this autumn during our Stargazing Nights events, but look forward to her return over winter break.
Speaking of Summer 2020, Frosty Drew Observatory and Science Center added several new team members to our Astronomy Team. Due to the pandemic several of our team members have opted to stay at home this summer, which we are totally okay with! This left us rather shorthanded with little-to-no notice because everything happened so quickly. We had a list of individuals that are always at the observatory, who are super knowledgeable, passionate individuals, that have been on our considerations list for some time. As such we added Aly Dugas, James Crouch, and Beau Dugas to our team this summer. We are now so much better because they are with us. Many of you that have been visiting during the pandemic have met these amazing people. We hope the rest of you get a chance to come out and introduce yourself to our new team members and allow them the opportunity to inspire you and introduce you to the cosmic perspective that they have. Here is our Frosty Drew Summer 2020 Team photo: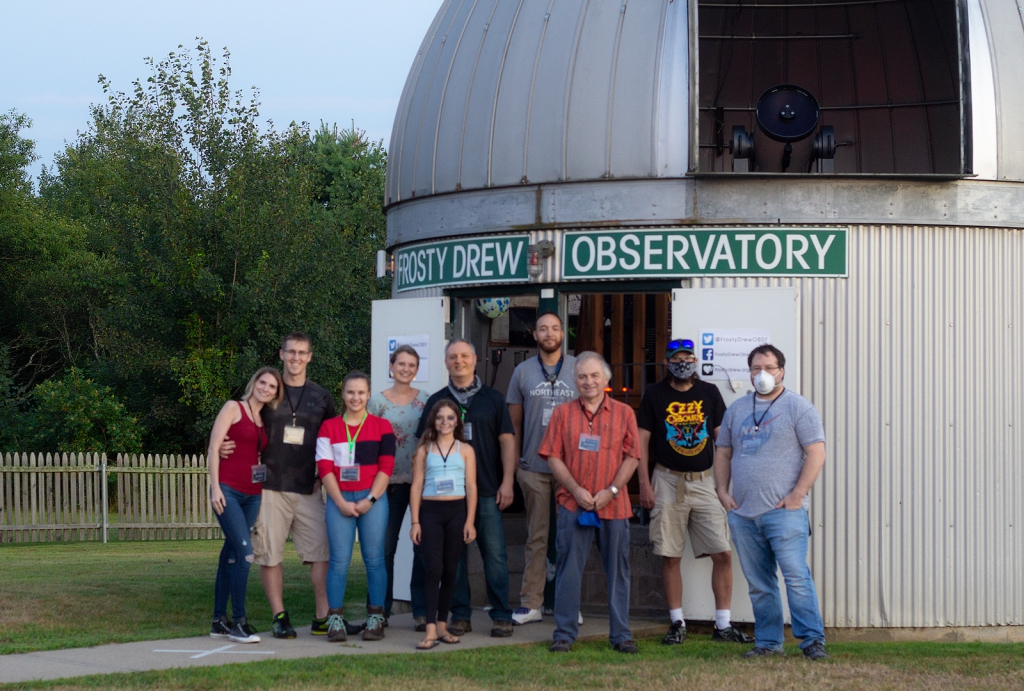 Enjoy the last week of summer!
Author:

Entry Date:

Sep 11, 2020

Published Under: