Celebration of Space - October 23, 2020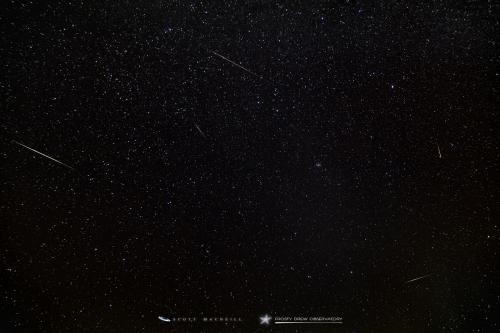 The Leonid Meteor Shower at Frosty Drew Observatory. Credit: Scott MacNeill
Overnight Tuesday, October 20 – Wednesday, October 21, 2020 the annual Orionid Meteor Shower peaked. Though a notable meteor shower, the Orionids do not bring the intense increases in meteor activity that we see from the Perseids, Geminids, or Quadrantids. What makes the Orionids worth a watch, is that it occurs while several other meteor showers are active, including the Taurid showers. This coming Thursday, October 29th into the morning hours of Friday, October 30th, will bring the peak of the annual South Taurid Meteor Shower, followed by the peak of the annual North Taurid Meteor Shower overnight November 11-12th. Both Taurid showers are known for the high number of fireball meteors they produce. A fireball meteor is a shooting star that is brighter than average, longer lasting, and could allow for visible fragmentation of the meteor. Considering that the First Quarter Moon occurs tonight, we will have a rather bright Moon for the peak period of these showers. But fireball meteors are not as hindered by bright Moon light as regular meteors are, because they are so bright. So take a moment this week to step outside, lay on your back, and see if you can catch sight of a few Taurid fireballs.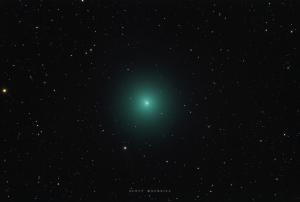 We think that it is safe to say that, among all the things that 2020 has been, it has certainly been a year for comets. Do you remember all the hype this past winter and spring regarding potentially awesome comet after potentially awesome comet. We feel like nearly every week we were talking or writing about a new comet. Then, of course, the fabulous showing we all had of Comet NEOWISE during the early summer. After NEOWISE faded, a lot of the hype dropped off with it. Well activity is still occurring, and we have a new, binocular visible, comet in the overnight sky.
Comet C/2020 M3 ATLAS, a periodic comet with an orbital period of 139 years, has been growing brighter with each passing night. Currently at magnitude 8.6 (the smaller the number, the brighter the object), Comet ATLAS will continue to brighten until reaching perihelion (closest to the Sun) on Saturday, November 14, 2020. Could Comet ATLAS become naked eye visible? Of course, though it doesn't mean it will. The comet, at this point, would need an outburst to happen for a jump in brightness to that level. Considering the approach of Comet ATLAS, it is reaching perihelion on the opposite side of Earth than the Sun, which is good for dark sky viewing, but not for tail observations. Comet tails point away from the Sun. This is because the comet's tail is a product of the Solar Wind, not the comet's motion. With Comet ATLAS experiencing perihelion on the opposite side of Earth than the Sun, the tail will be on the opposite side of the comet than we see. So it will largely appear as just a bright green glow with no tail, like Comet 46P/Wirtanen of 2018. Regardless, this is yet another chance to step outside and catch a binocular or telescopic view of a comet. Depending on how bright the comet gets, we may post finder charts to our Facebook. Currently the comet is in the constellation Lepus, just below Orion.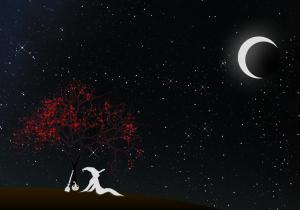 Save the Date!
Friday, October 30, 2020 6:30 pm – 10:30 pm.
Spooky Views – A Halloween Stargazing Experience
Join the Frosty Drew astronomers for a night of festive spookiness, with creepy sounds, décor, and more. We will host a stargazing lantern walk, and a chance for everybody to show off their costumes. We are running two stargazing sessions, making it more accessible to everyone. The earlier session, which starts at 6:30 pm, will be easier for families with younger children to visit. We will have candy in some capacity for visitors, though not in the usual basket with the severed hand. With the Full Moon happening on Halloween night, we will spend the night observing the waxing gibbous Moon, Mars, Saturn, and Jupiter. We will also re-open the Sky Theatre for this event as we welcome back NASA Solar System Ambassador, Frank Puglia. Frank will be speaking about Mars to socially distanced groups. So put the eve of the Eve of All Hallows on your calendar, and set out to the Moonlit wilderness of Ninigret Park for a celebration of all things Halloween, and show off that amazing costume (which is not required to attend).
Author:

Entry Date:

Oct 23, 2020

Published Under: