Celebration of Space - July 16, 2021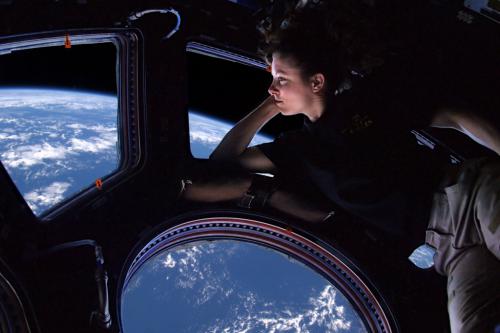 Tracy Caldwell Dyson hanging around the ISS.
Evening passes of the International Space Station will continue this week over our region. With the cloudy sky of late, stunning views have been a little difficult to see, though passes are still happening if you find yourself under a clearer sky. Additionally, there is one last pass of China's space station – Tiangong happening tonight, for its current orbital cycle. Here are several notable passes for the coming nights:
Tiangong:
Fri, Jul 16 at 8:53 pm, starting in the WSW, rising to 17°, heading towards the SSE
ISS:
Fri, Jul 16 at 10:23 pm, starting in the WNW, rising to 23°, heading towards the NE
Sat, Jul 17 at 9:35 pm, starting in the W, rising to 31°, heading towards the NE
Sun, Jul 18 at 10:26 pm, starting in the NW, rising to 16°, heading towards the NNE
Mon, Jul 19 at 9:38 m, starting in the WNW, rising to 19°, heading towards the NNE
Tue, Jul 20 at 8:51 pm, starting in the WNW rising to 23°, heading towards the NE
Wed, Jul 21 at 11:19 pm, starting in the NNW, rising to 19° and into orbital sunset
Thu, Jul 22 at 10:32 pm, starting in the NNW, rising to 16°, heading towards the NE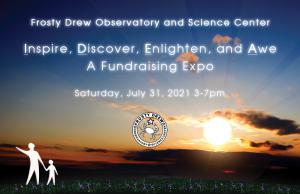 Put these times on your calendar and set your alarm. Catching a view of the ISS passing overhead is exceptionally inspirational and a true reminder of the amazing things we can do. For daily pass times of the ISS, Tiangong, and more, visit the Frosty Drew Daily Satellite Pass Prediction utility. Now get out there and see some amazement!
Save the Date!
On Saturday, July 31, 2021 from 3:00 pm – 7:00 pm, Frosty Drew Observatory and Science Center will host our first annual Inspire, Discover, Enlighten, and Awe (IDEA) Expo – A Fundraiser. This is a day to stop in and support Frosty Drew Observatory and Science Center while learning about our mission, our history, and where we are going. The entire Frosty Drew campus will be open and in expo mode. Astronomy stations will be set up to observe the Sun and Venus. Our astronomers and engineers will be taking apart telescopes to showcase their inner workings and how they bring fabulous views to your eye. We will have Project Comet Chaser on display – a NASA rocket that launched from Ninigret Park and passed through the tail of Comet 55P/Tempel-Tuttle. Our antique Questar 3.5 telescope will be set up and on display for those into old examples of spectacular craftsmanship. As a centerpiece of the expo we will showcase our new primary observatory telescope - the Planewave CDK 600, which will replace our aging Meade LX200 inside the dome. Regardless of your interest there will be something exciting for all.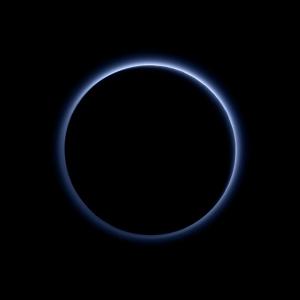 Visit our event page for info about the event. We also have a GoFundMe page set up for those who would like to donate but cannot make it out that day. This is a super important day for us at the Frosty Drew Observatory and Science Center, and we hope that you can make it out on Saturday to celebrate our successes and help us reach our fundraiser goal.
On Saturday, July 17, 2021 Earth will reach the point in our orbit where Pluto will be aligned with and on the opposite side of the Earth than the Sun. We call this the Opposition of Pluto. On this night, Pluto will be near its closest point to us for our year, at a distance of around 3.095 billion miles distant. Generally, opposition is the best time to observe an outer planet in relation to Earth. But Pluto is so small and so distant that it really doesn't matter. Pluto will still look like one of the dimmest stars in the view when observing through our big telescope. Regardless, if there is a night to observe Pluto, it would be this weekend. Maybe we'll try to catch a view in the Frosty Drew telescope tonight (July 16). Regardless, step outside Saturday night and send Pluto a crisp high-five to welcome the opposition of Pluto.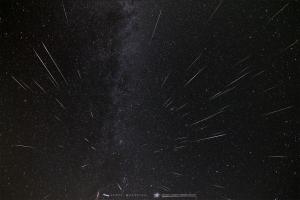 The annual Perseid Meteor Shower will start becoming visible overnight July 17, 2021, and will continue increasing in activity until the August 12-13, 2021 peak period. The Perseid Meteor Shower is the third best meteor shower of the year, and easily the most popular meteor shower of the year because it happens during the summer season. There are a lot of factors involved in a successful showing of a meteor shower peak. Any presence of the Moon will be problematic as it will brighten up the sky too much to see the dimmer meteors. Weather also plays an important role. The clearer the sky the better the meteor display. In 2021, we have excellent timings in regards to the Moon, all we need now is for weather to cooperate, which is a lot to ask for August. Regardless, over the next few weeks you should notice a nice uptick in meteor activity, and not only from the Perseids. The South Delta Aquariids and the Alpha Capricornids are both occurring as well. So keep an eye to the sky because you may spot a shooting star.
Author:

Entry Date:

Jul 16, 2021

Published Under: