Celebration of Space - November 26, 2021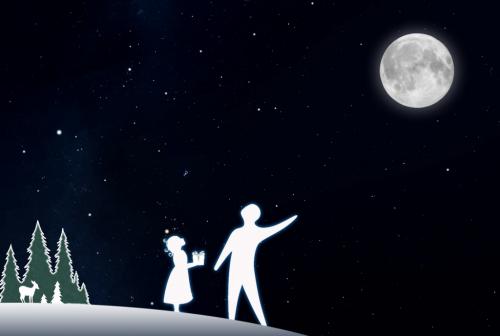 Giving Tuesday 2021 is on Tuesday, November 30, 2021. Please consider donating to Frosty Drew Observatory and Science Center
Overnight tonight (Friday, November 26, 2021) the European Space Agency's (ESA) Solar Orbiter spacecraft will make a super close fly-by of Earth. In doing so, the Solar Orbiter will perform a gravity assist maneuver to modify its orbit to direct it towards the Sun. The gravity assist will bring the Orbiter within 286 miles from Earth, which is nearly as close as the altitude that the ISS and Tiangong orbit Earth. Depending on where you are on Earth, the fly-by may be visible in binoculars, telescopes, and cameras. Though naked eye visibility is unlikely. Over Southern New England, we will catch a view around 11:48 pm in the constellation Pisces, continuing into the morning hours of November 27th. At 1:15 am, the Solar Orbiter will drop below 10° above the western horizon. For those looking to see the spacecraft, the best times to attempt a view will be from 11:48 pm – 12:03 am. Closest approach will be at 11:30 pm, but the spacecraft will be in Earth's shadow at that time.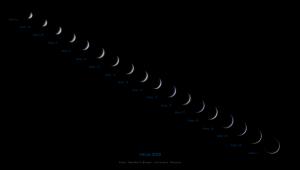 This coming week will be the best time to view Venus as far as brightness goes. As Venus orbits the Sun, the distance that Venus resides from Earth changes greatly. Which is why Venus will grow brighter in the evening sky. But at the same time, the side of Venus that is in direct sunlight further wanes from our point of view, and the nighttime side of Venus becomes the prominent side to face Earth. We see this as a waning crescent phase when observing Venus in a telescope, and the loss of reflected sunlight due to this waning causes Venus to dim at the same time. The result is a period when enough of Venus' sunlit area is in view when Venus is quite close, giving us the brightest view during Venus' progression towards inferior conjunction. Which is when Venus orbits in between the Sun and Earth. Step outside this coming week shortly after sunset, and look to the southwest. Venus is that crazy bright star-like object that is easily mistaken for a plane. Binoculars may show a tiny crescent, and a backyard telescope will show a stunning 28% waning crescent.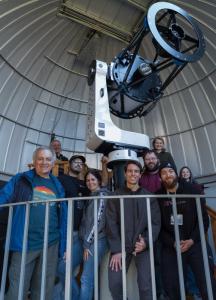 Now that the Thanksgiving holiday is past us, we are descending full swing into the holiday season. Over the next few days the American shopping frenzy tradition will continue, during which many embrace the thought of giving. Over recent years the addition of Giving Tuesday – the Tuesday after Thanksgiving, has become a day that small non-profit organizations like Frosty Drew Observatory and Science Center rely on. It's a day that showcases the need for financial support from generous donors to continue our mission of inspiring the younger generations to reach for the stars. 2021 has been a fantastic year at Frosty Drew Observatory and Science Center. We have seen so many new additions to our facilities and have had a great turnout for our Stargazing Nights, Celebrate the Milky Way, and special events. The biggest note of the year was the replacement of our primary observatory telescope with a new, cutting edge, PlaneWave CDK600 24 inch telescope. The addition of this device will allow for fantastic new program offerings as well as propel our existing programs to a level that we could not achieve otherwise.
At Frosty Drew Observatory and Science Center, our mission is a message of hope for so many people that are unsure that they can do amazing things. Fulfilling our mission is so important to us. When you support Frosty Drew Observatory and Science Center, you are enabling us to continue our mission. We don't know who will be the first human to set foot on Mars, but we do know that they are walking around on Earth right now. Do they know that they can do it? Perhaps they don't think they will do something amazing in their life. At Frosty Drew, our mission is not to do great things, but to inspire others to do great things. To introduce them to the concept that amazing things can happen at any time by anyone. Your support allows us to grow this mission.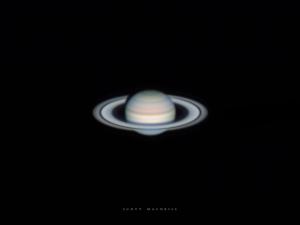 To celebrate Giving Tuesday, Frosty Drew Observatory and Science Center will be broadcasting live and archived telescopic views, videos of the new PlaneWave CDK600 installation, and short talks by our Astronomy Team members on Tuesday, November 30th. We will also be on site that day and will welcome any visitors that stop in. If weather cooperates, we will have a solar telescope set up as well as another telescope set up on Venus offering daytime views of the waning crescent phase.
We are so thankful for those who have supported us over the years, and for those who continue to do so. You are amazing people, and we love you for it! As you kick off the Holidays, we ask that you consider Frosty Drew Observatory and Science Center in your giving. Your donation will bring so many smiles and gasps from first views of Saturn's rings, the vast wisps of the Orion Nebula, and the intense spirals of the Andromeda Galaxy. Donate today. Thank You!
Author:

Entry Date:

Nov 26, 2021

Published Under: