April Lyrids Meteor Shower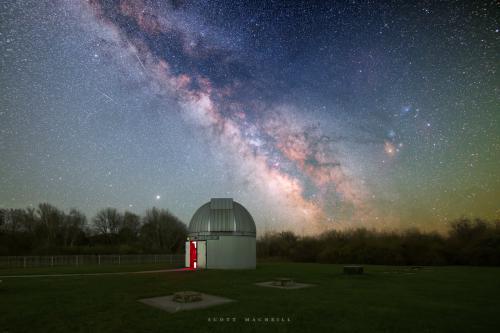 The Milky Way stretches over Frosty Drew Observatory during the annual Lyrid Meteor Shower. Credit: Frosty Drew Astronomy Team member, Scott MacNeill
It's been a while since Mother Nature has afforded us a decent display of shooting stars. Clouds or bright moonlight have often conspired to prevent us from watching "burning rocks" falling from the sky. However, on the night of April 22-23, between midnight and dawn, the annual April Lyrids meteor shower will reach its peak of activity. The Lyrids are actually the oldest known shooting star display, having been observed by Chinese astronomers on March 16, 687 BCE. Being such an old display, the number of meteors populating this stream of particles has greatly diminished. However, with good sky conditions and no interfering moonlight, perhaps up to 20 meteors per hour can be counted from dark sky locations.
These swift and bright meteors disintegrate after hitting our atmosphere at a moderate speed of 29.8 miles per second. They often produce luminous trains of dust that can be observed for several seconds. The Moon will be new on the 23rd, so it will not interfere whatsoever with this year's shooting star display.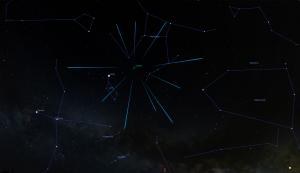 The Lyrids appear to radiate outward from an area of sky on the Lyra-Hercules border near the bright star Vega, which will be about 45 degrees (halfway between the horizon and zenith) above the eastern horizon at midnight and well placed for observing. Let your eyes roam the heavens while facing this general direction. Remember, even though you can trace the dust train left by a Lyrid meteor back to the radiant point, members of this shower can appear anywhere in the sky. The Lyrids are a fairly narrow stream of particles, so don't expect many to be seen before or after peak night. It is produced by dust particles left behind by comet C/1861 G1 Thatcher.
Keep your eyes to the skies!
David A. Huestis
Author:

Entry Date:

Apr 15, 2020

Published Under: