Celebration of Space - April 21, 2023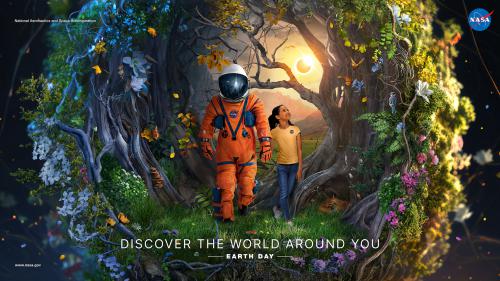 Earth Day 2023 with NASA
This coming Sunday, April 23, 2023, during the morning hours, the annual Lyrid Meteor Shower will peak, bringing with it an increase in regular meteor activity by upwards of 20 meteors per hour. Unfortunately, in true 2023 fashion, forecasts are calling for rain during that time frame, which will make for a dismal early morning experience. But if you find yourself in a clearer region than New England, you will want to be out for this event, because it is the first meteor shower peak that kicks off meteor viewing season. To catch a view of the meteor shower, you will want to be at a location with a wide open sky, and that is outside of heavily light polluted areas. Be there for midnight, and plan to stay for at least a couple of hours. Lay on your back with your feet orientated towards the south, and look to the zenith (top of the sky). Lyrid meteors will appear to radiate from the constellation Lyra, near the super bright star Vega. Let us know if you happen to see any.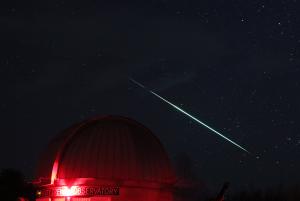 On Saturday, April 22, 2023, the annual Earth Day festival will happen in Ninigret Park, home to Frosty Drew Observatory and Science Center. There will be several exhibitors set up in the field adjacent to the Frosty Drew campus. Frosty Drew has plans to set up our solar telescopes and offer views of the Sun to visitors, but it appears that it will be clouded out, and possibly raining on Saturday. If it is cloudy, we will instead open the Observatory dome and offer views of our new telescope, as well as offer tours of our Science Center. If it ends up raining, we will keep our facilities closed. So take a moment to celebrate Earth, and stop in for a daytime frolic in Ninigret Park. The event starts around 10:00 am.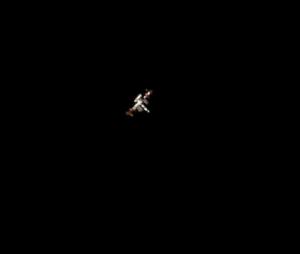 This coming week, China's space station, Tiangong, will return to the evening sky over the US, offering spectacular evening passes of the station. Getting out to see the stations orbit over our region requires the viewer to be at a location where the Sun has already set, but where the orbiting station is still in direct sunlight. It is sunlight that reflects off the stations that allow us to see them pass by. Tiangong is not as large as the International Space Station (ISS), but it is modular, and continues to expand. As a result, it is now close to the brightness of the ISS when it passes over. Here are two notable passes for the coming week:
Wed, Apr 26 at 9:26 pm, starting in the SW, rising to 20°, and into orbital sunset
Thu, Apr 27 at 8:23 pm, starting in the SSW, rising to 23°, heading towards the ESE, and into orbital sunset.
Even though there are only two passes listed, the station will be making daily passes over our region until May 9th, so there will be many opportunities to catch a view. For daily pass times of brighter satellites over the Northeast, check out the Frosty Drew Daily Satellite Pass Prediction Utility.
Author:

Entry Date:

Apr 21, 2023

Published Under: