Celebration of Space - October 20, 2023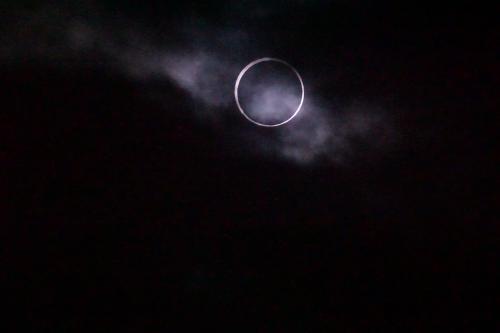 The annular solar eclipse of October 14, 2023 over Crescent Lake, Oregon. Credit: Frosty Drew Astronomy Team member, Gavin Olson.
Last Saturday, October 14, 2023, an annular solar eclipse happened over the Americas. In Rhode Island, we saw this event as a 19.11% partial solar eclipse. At Frosty Drew's event, clouds were persistent and annoying, though we were able to spot the eclipse quite frequently through thinner clouds. We discovered that our telescopes had a more difficult time observing the eclipse with clouds than visitors using eclipse glasses did. Which was a nice discovery, because it made for okay viewing for the numerous visitors that attended. Maximum eclipse occurred at 1:26 pm ET, which is when the Moon had eclipsed 1911% of the Sun, from our location. But clouds became very heavy with rain setting in just after 1:05 pm ET.
Frosty Drew Astronomy Team member, Gavin Olson, set his sights to the Crater Lake area of Oregon, where he was able to see the spectacular annular eclipse. Throughout the day he was sharing images from Oregon with us at Frosty Drew, and we had them periodically on displays for visitors to see. Additionally, we were able to capture a rather good image of the eclipse at 15.86% just before clouds and rain shut us down. Check out our photo gallery of the eclipse, which includes photos from our event and from Gavin's event in Oregon.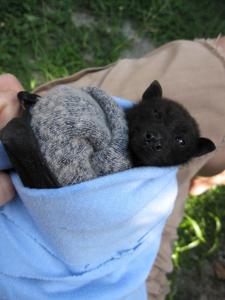 This past Tuesday, October 17, 2023, the news was released that 21 species were removed from the Endangered Species Act. These species were removed because they are now extinct. Take a moment to think about that word, Extinct: NEVER will come back. Gone FOREVER! Among the 21 species are a bat and ten birds. Bat and bird extinction, among other species, are linked to light pollution, and artificial lighting. In a time of severe climate change due to the irresponsible behavior and activities of humans, it is sad to see that we are not fixing the problem, especially when the light pollution problem is so easy to fix. The loss of biodiversity – the extinction of species problem IS part of anthropogenic climate change (caused by humans)! Why are we so brash and pretentious to think that we are entitled, or have the right, to push another species to extinction because of our irrational fears? There is this weird idea going around that humans live here, or that the Earth was made for humans, both of which are equally nonsense. Humans, like all other species, are part of Earth. Just like the grain is part of the wood, and your eyes are part of your body. We are part of a vast ecosystem that has evolved in concert with the planet. How would we react if another species tried to push us to the point of extinction?
Frosty Drew Observatory and Science Center is located inside Ninigret Park, which is the darkest spot in Southern New England, and is listed as the most accessible spot in New England to see the Milky Way. The Observatory building is about 150 feet from the boundary of the Ninigret National Wildlife Refuge, which is known for birds and bats. The dark sky, which allows for a view of thousands of stars, is a treasure that a majority of residents in town value immensely. Though a small group in town has been pushing for decades to add nighttime lighting to Ninigret Park, as well as lighted sports fields. This group is now in power and has hired a contractor to develop a plan to do so. It is baffling to me that this group would want to make Ninigret Park the same as every other lighted park in the region, at the cost of the one unique natural resource that it currently celebrates – the night sky.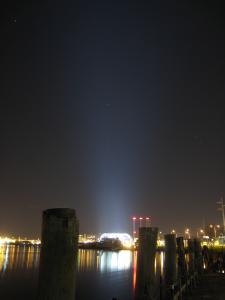 This past week, Frosty Drew attended a meeting with the contractor that is developing the plan, and to our dismay, the contractor kept linking nighttime lighting with safety, a claim that has been discredited time and time again. It was stated at the meeting that Ninigret Park needed to be made safe by adding nighttime lighting, and by extension, the Frosty Drew Observatory and Science Center. We were unaware that Ninigret Park or Frosty Drew were "unsafe" due to the lack of lights. I have been at Frosty Drew for 14 years, and the 4 years before that I would periodically hang out in the parking lot during stargazing events with other enthusiasts and astronomers, where we would set up telescopes. For the past 14 years, I have spent several nights per week in Ninigret Park overnight, and not once have I felt unsafe, or in danger due to the darkness. Additionally, I have never met anyone during that time who could say the same. Also, there have been no deaths, attacks, or crime in Ninigret Park that has come down to lack of nighttime lighting. In reality the only time nighttime crime occurs in Ninigret Park is when festivals set up their own nighttime lighting. Because that is where crime happens, in the light. Outside of Frosty Drew, I also work in the dark in Providence, and Newport, among other locations, and I have never felt unsafe or been attacked in those places at night. I have been attacked while doing astronomical work, but it has always been in locations with excessively bright light, and when I was under those lights, or during the day.
Americans have an irrational fear of the dark because we are unable to identify reality from fiction. We see this in how easy it is to manipulate the American public with misinformation. Homo erectus has been on Earth for about 2 million years. Nearly all of that time was without lights at night. If the night is so dangerous, how did we ever survive?! Additionally, if the night is so dangerous, then how have so many species survived the last 4.8 billion years of Earth's history? Humanity needs to stop prioritizing irrational fear, and greed, over the survival of other species that have just as much right to be here as us. Otherwise, our role in this ecosystem becomes similar to that of a virus.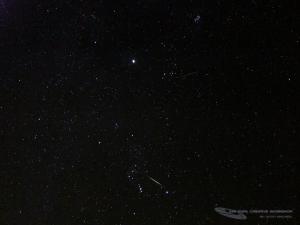 Overnight, Saturday – Sunday, October 21-22, 2023, the annual Orionid Meteor Shower will peak, bringing with it an increase in regular meteor activity by upwards of 20 meteors per hour. The Orionid shower is one of the notable showers of the year, but it is not as grand as the Perseids or Geminids. At Frosty Drew, we have observed good activity with the Orionid shower, making it worth an attempt at viewing. Additionally, the Orionid shower radiates from the constellation Orion, just above the bright star Betelgeuse. This will bring the first view for the year of the fantastic Orion constellation to many meteor watchers.
The Orionid shower originates from Halley's Comet, which is a short period comet that has a 75-79 year orbital period. When Halley's Comet passes Earth, a trail of comet dust and debris is left behind. Earth will orbit into this debris field every October, and will pass through the densest region of debris during the night of October 21st. These tiny pieces of comet, which are usually about dust sized – rice grain sized, will become captured in Earth's gravity, and enter the atmosphere at speeds of 41 miles per second. When they encounter the mass in Earth's atmosphere they will burn up, leaving a streak across the sky.
If looking to catch a view of the Orionid peak, you will want to set out to a location with a wide open view of the sky, that doesn't have any light pollution. You should plan to arrive after midnight, as the shower is best in the hours before predawn kicks in. Lay on your back with your feet oriented towards the SE, and look to the zenith (top of the sky). Since the First Quarter Moon will set just before midnight, the best part of the shower will have no Moon present to hinder your view. At this time, it appears that clouds may move out of our region during the morning hours on Sunday, which could give us a good view of the shower. Let us know if you see any Orionid meteors.
If you are out Sunday morning to observe the Orionid Meteor Shower, be sure to take a moment to spot the International Space Station passing by:
Sun, Oct 22 at 5:49 am, starting in the WSW, rising to 63°, heading towards the NE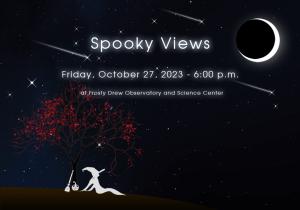 This coming Friday, October 27, 2023, Frosty Drew Observatory and Science Center will be hosting our annual Spooky Views – A Halloween Stargazing Experience, which brings fantastic décor, scavenger hunts, candy, War of the Worlds, and more to Frosty Drew. It is a fan favorite and certainly an awesome night for our team members. There are still tickets available for the event, and weather is actually looking quite good at this time, but it is certainly too far out to tell. Check out our event page (https://frostydrew.org/Halloween) to learn more about the event, and make plans to be there with your family, friends, or just your fabulous self, and have a spooky night out under the stars.
Author:

Entry Date:

Oct 20, 2023

Published Under: