Celebration of Space - November 3, 2023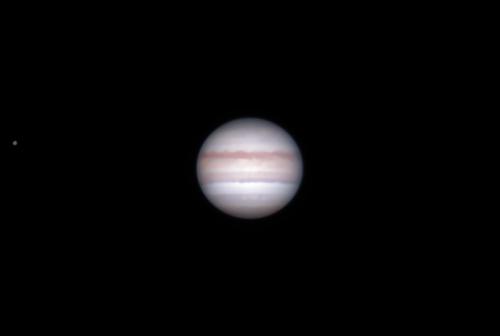 Jupiter near opposition. Credit: Frosty Drew Astronomy Team member, Scott MacNeill, captured this image with the 16 inch telescope at Frosty Drew Observatory.
Today, November 3, 2023, Earth has arrived, in our orbit, between the Sun and Jupiter, placing Jupiter on the opposite side of Earth than the Sun. This is the opposition of Jupiter, and makes tonight the best night to observe Jupiter in a telescope. Tonight, Jupiter will rise with the setting Sun, and set tomorrow morning with the rising Sun. Additionally, opposition places Jupiter at its closest point to Earth at a distance of around 370.3 million miles. Even though tonight is the best night to observe Jupiter, the next couple of weeks will offer nearly the same spectacular view. So get out to Frosty Drew or another observatory and catch a view of Jupiter in a big telescope!
This coming Sunday, November 5, 2023 at 2:00 am local time, the regions that adhere to Daylight Savings Time (DST) will make the switch back to their standard times. In New England, we are currently on Eastern Daylight Time (EDT), and will make the switch back to Eastern Standard Time (EST). To do so, we will be moving our clocks back one hour, which will place us back at GMT -5. GMT is Greenwich Mean Time. The Prime Meridian passes through Greenwich, London, UK, which is the basis for our time zones. The East Coast US is five hours behind Greenwich, which is what GMT -5 means. When we are on Daylight Savings Time we are GMT -4. A good way to remember which way to shift your clocks is: "During the fall season, fall back one hour, and during the spring season, spring ahead one hour". Enjoy your extra hour on Sunday in whatever way you use it!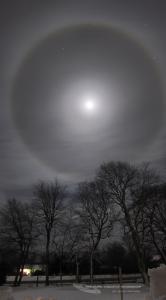 Now that Halloween has passed, the cooler temps of late autumn are starting to kick in, and with those cooler temps comes the return of lunar (and solar) halos. These halos have a 22° radius and often look like a faint circular rainbow around the Moon. These halos are a result of moisture that rises into the stratosphere and freezes into tiny hexagon shaped ice. These ice crystals will doubly refract light, and when they align, they will direct light away from an observer's view of the light source, settling on a ring around the object. Now 22° halos can happen at any time during the year, but during the colder months we see a much higher probability of the phenomenon. We have heard that lunar halos are a harbinger of a coming snow storm, but halos happen much more frequently, and all that is needed is an increase in high level moisture with cold temps. In reality, we consider a coming snow storm a harbinger of a lunar halo. Even though the Moon is waning towards the New principle phase, halos can be seen usually from the first quarter phase until the third quarter phase. So step outside this month and see if you can spot a 22° lunar halo.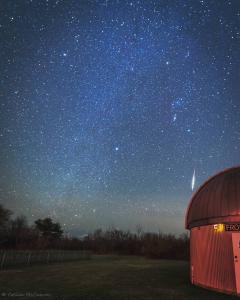 Overnight on Sunday, November 5 – Monday, November 6, 2023, the annual Southern Taurid Meteor Shower will peak. Even though the peak night will only bring an increase in regular meteor activity by an additional five meteors per hour, the Taurid showers bring fireball meteors. Just last night (November 2, 2023), Frosty Drew Astronomy Team member, Greg Mastroianni, spotted an intense Taurid fireball. When checking in with the American Meteor Society (AMS), there were dozens of reports coming out of the Northeast about the fireball. Considering that the peak night occurs on the same night as the return to EST, viewers will have an extra hour to be out. It's important to note that an extra hour of darkness will not happen, but an extra hour in your schedule will, which could allow for you to stay out a little later than usual. The Taurid shower will be best around the midnight time frame, when the radiant point of the shower, the constellation Taurus, is at its highest point in the night sky. The 37% waning crescent Moon will rise at midnight on Sunday morning, which will obscure some of the dimmer meteors, certainly not the fireball meteors. Though you can get a good view of the Taurid shower in the hours before the Moon rises. To catch a view, head out to a location like Ninigret Park, where there is very minimal light pollution and a wide open view of the night sky. Lay on your back with your feet oriented towards the southwest and look to the zenith (top of the sky). Let us know if you spot any Taurid fireballs.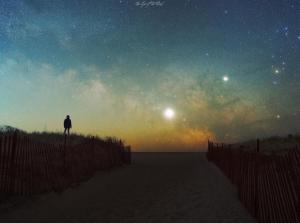 Now that we are approaching the third quarter Moon, which will occur on Sunday, November 5, 2023, the dark nights without the Moon are returning. Sadly, nearly 90% of humanity will not even notice. This is because they reside under a sky loaded with artificial light, which makes the sky look like the full Moon is out every night. In Ninigret Park, Charlestown, Rhode Island the sky is remarkably dark, with thousands of stars making an appearance when the Moon departs the sky. This is so unusual for the Southern New England area! In Providence, we see around 50-100 stars on a night without the Moon, with many of the constellations, even zodiacal constellations, rendered invisible due to this unnecessary waste of energy. It is important to remember that Ninigret Park is such a special place to thousands of people who make the trek to Charlestown to become acquainted with a view that our ancestors had everywhere. It is a true gem in Rhode Island, Southern New England, and the eastern side of the US. The sheer number of times I have heard visitors freak out at Charlestown's view of the Milky Way, Zodiacal Light, or the constellations that just aren't visible elsewhere is astounding. It IS what puts Charlestown on the map, and it IS the one resource that makes Charlestown unique. Those who have worked diligently over the years to protect this special and important natural resource are our heroes, and Frosty Drew is grateful for the work that has been done.
At 6:23 pm tonight, Friday, November 3, 2023, the launch window opens for the SpaceX Falcon rocket, which is carrying the next set of Starlink satellites to orbit, to depart from Cape Canaveral, FL. The launch is right around sunset, which is prime for observing the exhaust plumes of the launch vehicle. Being that SpaceX is so obscure about publishing launch visibility maps, we are never completely sure the launch will be visible as far north as Southern New England, but the prospect is always there. Being that we can expect clearer sky conditions this evening, it is certainly worth a try for a view. Set out to a location with a good view of the south → southeast horizon, and be there for 6:15 pm. The launch vehicle should become visible about 5 minutes after launch like a bright star moving eastward rather quickly. The launch window stays open until 10:54 pm, and if the launch is delayed for any reason, viewers may have to wait until later in that time frame. Let us know if you see it, and if you snap a picture, be sure to send it to us as well.
Author:

Entry Date:

Nov 3, 2023

Published Under: