URI Planetarium - What more do you need?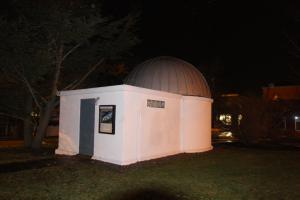 URI Planetarium by Jim Hendrickson
Nestled quietly on the corner of Upper College Road and Engineering Row is a unique little building resembling a silo stepped on by the Jolly Green Giant. Many students who pass by this building have no idea they are looking at one of the most modern planetariums in the area. The University of Rhode Island Planetarium, a part of the campus for decades, has within its doors the ability to travel through the solar system, and beyond.

Originally situated in front of the University's library, the planetarium was moved to its present location upon the library's expansion. It originally had what was then the "planetarium" of the people, as the instrument was named. The Spitz A projector, vintage 1940s, was the workhorse of the facility for decades; in the 1960s, a modern Viewlex projector was installed, but that actually had errors in its starball, and the Spitz was again called into action. It was replaced in the early 2000s by the projector normally used inside a Starlab inflatable planetarium, but then a Champlain grant allowed the purchase of the Evans & Sutherland Digistar3 projection system, a state-of-the-art programmable marvel which allows the University to not only perform live night-sky programs, but to create and purchase programs from similar facilities.

The building itself is totally different from the average planetarium. Walking into it, you are amazed at its size: 16 feet (5 meters), the diameter of a normal inflatable facility. But, it is totally carpeted, with seats that are much more comfortable than the average, as they are movable, not attached to the floor as a normal planetarium seat is, with backs that move to the audience's comfort level. For the general public, the size and almost living room feel make the program time almost like being home. Children enjoy the small size, as it isn't overwhelming for them. All-in-all, every audience enjoys the time spent there.

The URI Planetarium offers programs for the Physics Department's Astronomy classes once a week; it also has a public program, normally the second Friday of each month, a fund-raiser for both the URI Planetarium and Frosty Drew memorial funds. In addition, the planetarium offers programs for audiences of all ages, by request. Would you like to come to a totally unique planetarium experience? If so, come on down!
Author:

Entry Date:

Apr 4, 2013

Published Under: