Zodiacal Light Returns to Frosty Drew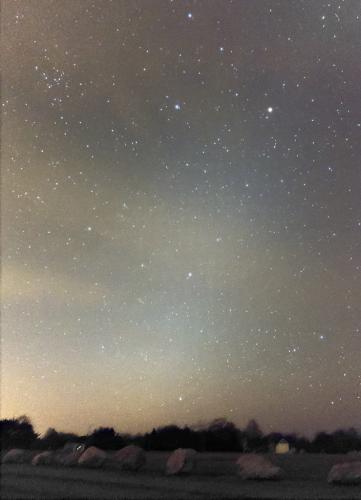 Zodiacal Light as seen over Ninigret Park, Charlestown, Rhode Island. Photo: Scott MacNeill
Over the past six years at Frosty Drew I have heard the tales of old, about how the fabled zodiacal light used to be visible in the skies over Charlestown, Rhode Island – home to Frosty Drew Observatory. These tell-tales usually end with sad faces and a sigh while gazing towards the increasingly light polluted skies which have erased this mesmerizing natural glow from our view. Though recent community action and town legislation has brought this issue to the forefront and the results of this action have come to light as the once legendary zodiacal light has returned to Charlestown, Rhode Island.
Zodiacal light is a super faint glow that extends upward from the horizon with a slight southerly tilt and has an elongated or almost triangular shape. The glow will be visible either in the East about two hours before the Autumn sunrise or in the West about two hours after Spring sunset. This glow is so faint that moonlight and minimal, if any, light pollution will render it invisible. Zodiacal light is caused by sunlight that is reflected off interplanetary dust that collects along the plane of the solar system or ecliptic. This collection of dust is known as the zodiacal cloud. The dust is a result of asteroid collisions, Kuiper object collisions, comets passing through the solar system, and similar occurrences.
On the early morning of November 15th I was in Ninigret Park shooting the fabulous Comet C/2012 S1 ISON when I first noticed a distinct glow extending upward on the East Southeast horizon. At first I dismissed it as some of the numerous artificially created light domes along the Ninigret horizon. After comet gazing for about 30 minutes it hit me, there are no artificial light sources to the southeast as the ocean is all that lies in that direction. Having never observed zodiacal light outside of a photograph, I found myself pondering the question: "Has zodiacal light returned to Charlestown, Rhode Island?". Well after about 15 minutes of studying this light it became clear that the answer to that question was "Yes!".
In September 2012, Charlestown adopted a Lighting Ordinance that governs the use of outdoor lighting effectively restricting lighting to dark-sky compliant fixtures. This piece of legislation has been met with mixed opinion, most of that opinion being supportive. Since adoption of the ordinance I have noticed some changes around town. There are those who are grandfathered in and now blast their lights in clear defiance of the ordinance. Though this number is very small compared to those who have stepped up their game. Some establishments around town have followed ordinance regulation and upgraded to compliant fixtures when making repairs, but more importantly, there have been many establishments around town that have taken the initiative to replace their existing lighting with new dark-sky compliant lighting. Well the efforts of these establishments to curtail inefficient sources of light spillage has begun to show and surely pay off.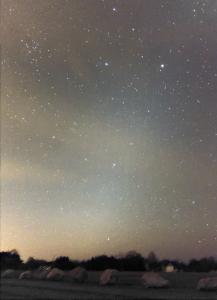 This photo tells the story of a spot in New England where zodiacal light is now visible. Having lived in the Northeast all my life I have never seen zodiacal light until now. When viewing photos of zodiacal light they are always shot in areas that are famously known for their super, crazy-dark skies. These spots are usually located in deserts, on mountain tops, or vast frozen wilderness; surely not in Rhode Island. This photo tells the story of how a community came together to take a stand against the negative effects of light pollution and brought the fabled zodiacal light back to their skies. This is Charlestown, Rhode Island and we see zodiacal light!
Author:

Entry Date:

Dec 2, 2013

Published Under: