Gear Up for the Geminid Meteor Shower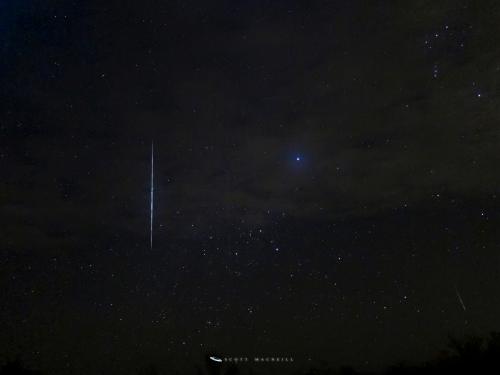 Geminid Fireball and Sirius
Overnight December 13-14th, gear up for a fabulous night of shooting stars and frigid temps as the fabled Geminid Meteor Shower peak is coming to the skies over planet Earth. Producing upwards of 120 meteors per hour under perfect conditions, sky watchers are continuously mesmerized. This year, the 35% waxing crescent Moon will set around 10:08 p.m. offering fantastic opportunities to catch a stunning display of meteors for most of the night. Clear your schedule because the Geminid shower is surely one of the best, if not the best, meteor showers of the year.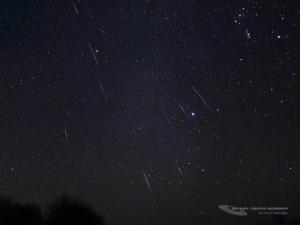 Unlike most meteor showers, which originate from comets, Geminid meteors originate from an asteroid - 3200 Phaethon. The meteor spewing asteroid was discovered on October 11, 1983, is only 3.17 miles in diameter and has a 1.4 year orbital period around the Sun. 3200 Phaethon is quite the misfit asteroid as well. Sporting a highly elliptical orbit, it has lead scientist to suspect it may be a dead comet. Though when passing at its closest to the Sun (perihelion) it does not form a comet-like tail or tenuous atmosphere (coma). Regardless of the strangeness that surrounds 3200 Phaethon, one thing is certain. It leaves behind a fabulously dense debris field that fuels the mid-December meteor spectacular for all of us watchers on Earth.
This year we can expect meteors to pick up around 9:00 p.m. on December 13th. Meteors will appear to originate from the bright star, Castor in the constellation Gemini. As Castor rises higher into the sky, meteors will become more frequent and noticeable. The Geminid shower is also known to produce a colorful display of meteors, obviously in seasonably festive fashion, as well as frequent fireball meteors that light up the sky.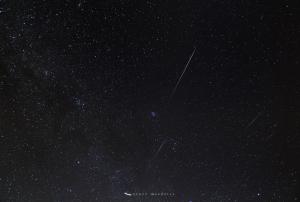 Frosty Drew Observatory will open all night long on December 13th in observance of the shower. The 2012 Geminid shower at Frosty Drew Observatory was mind blowing! Visitors from all over New England came out as meteors rained down on us all night long. Pack up warm clothes, blankets, lawn chairs, sleeping bags, hot glogg...err..coffee, much enthusiasm, and make plans for a fabulous night out under the Charlestown starscape as fast moving meteors blaze the sky.
Author:

Entry Date:

Dec 6, 2018

Published Under: