Celebration of Space - July 30, 2021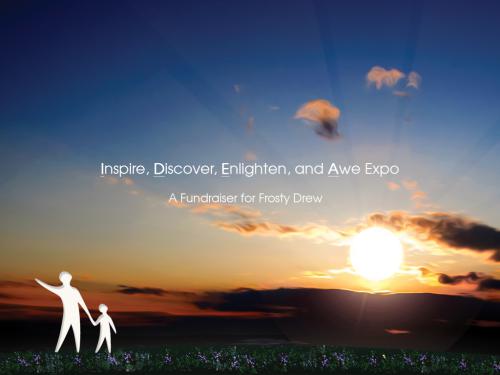 On Saturday, July 31, 2021 Frosty Drew will host its first annual IDEA Expo fundraising event.
This weekend is a huge weekend for Frosty Drew Observatory and Science Center. It all starts tonight with our Summer Stargazing Nights event, continuing tomorrow afternoon with our first annual Inspire, Discover, Enlighten, and Awe (IDEA) Expo Fundraiser, and closing out with our Celebrate the Milky Way event tomorrow night. We couldn't have asked for a better weather forecast, and after a summer of hot, wet, cloudy, hazy, smokey nights we were a bit worried.
The Frosty Drew IDEA Expo is an important event for us as it will help fund Frosty Drew's mission of enlighten, discover, inspire- through education and research- knowledge about science, the night sky, and the universe. Our new Planewave CDK600 telescope, which will arrive later this year, is a huge addition to our program, and will bring a slew of new programs, events, and opportunities for you to become engaged in astrophysical science. It has been quite a road to get where we are today and the support of so many amazing people is how we did it. Stop in tomorrow starting at 3:00 pm and experience what we all look like during the day. Learn about our namesake – Frosty Drew, and get engaged with our mission. We will have presentations set up about telescopes, solar viewing activities, Venus daytime spotting, galleries of astro images on display, and so much more. Read about the Expo and pencil us in for a beautiful summer afternoon at your favorite STEM destination.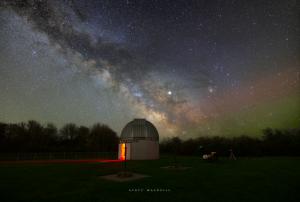 After we wrap up our IDEA Expo, we will take a quick break before shifting into dark sky mode. Then at 9:30 pm we will re-open with our last Celebrate the Milky Way event for summer 2021. This event is tailored to the biggest question we hear: "When can I see the Milky Way". That question led to us creating a special event on the nights that we think the Milky Way will be in best viewing on a Saturday night. These are the nights to lay out on our campus and get lost in thousands of stars. Our telescopes will be set up in the Observatory and Observatory Courtyard showcasing all the amazing objects along the Milky Way galactic plane that are only visible on the darkest nights. Tickets for this event are already on sale and can be acquired here.
This is a huge weekend and the weather is perfect to be out and about. Maybe seeing the Milky Way is on your bucket list. Perhaps you heard that the view of Saturn's rings in the telescope is breathtaking. Or maybe you want to exercise your philanthropic awesomeness in supporting a fantastic STEAM organization. Whatever your digs are, stop in at a Frosty Drew event this weekend, or stay for all, and have your moment with the Universe.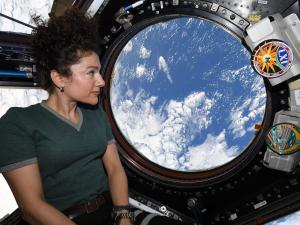 Fantastic evening passes of the International Space Station (ISS) will continue for the weekend and first half of the week before dropping off for a while. Catching a view of the ISS passing over in the evening is much more family friendly than having to get up at 4:00 am to sneak a peek. It is also incredibly inspirational to observe humanity's only continually inhabited space based residency orbit 200 miles overhead. Here are notable passes of the ISS for the coming evenings:
Fri, Jul 30 at 9:03 pm, starting in the NW, rising to 48º, heading towards the ESE and into orbital sunset
Sat, Jul 31 at 9:53 pm, starting in the WNW, rising to 35º and into orbital sunset
Sun, Aug 1 at 9:05 pm, starting in the WNW, rising to 62º, heading towards the SE and into orbital sunset ← Awesome Pass!
Tue, Aug 3 at 9:08 pm, starting in the W, rising to 21º, heading towards the S
These times are applicable to Southern New England and are generally acceptable for the entire Northeast. For pass times specific to your location, visit NASAs Spot the Station. Now put these times on your calendar and set your alarm to get out and see the ISS while the clear sky conditions last.
On Monday, August 2, 2021, Earth will reach the point in our orbit where Saturn will be directly on the opposite side of Earth than the Sun. We call this the opposition of Saturn, which places Saturn into direct sunlight when observed from Earth. During opposition, Saturn will be at its closest to us for the year at a distance of 830,560,856 miles (74.3 light minutes). Once we pass opposition, Saturn will increasingly rise before the Sun sets, making it much easier to catch a view in twilight.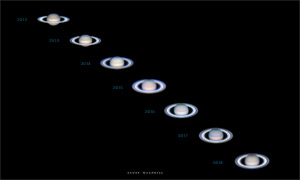 Saturn is a somewhat dynamic planet to view due to our view of the rings orientation, which changes every year. One full orbit of Saturn will take nearly 30 Earth-years to complete. Saturn also has an axial tilt of 26.7º, and the rings sit over Saturn's equator. Like Earth, as Saturn orbits the Sun its tilt, in regards to the Sun, will change. Think of Earth's seasons, in the summer we are tilted towards the Sun, and in the winter away from the Sun (Northern Hemisphere). Over the course of Saturn's year the same thing happens, but since it takes nearly 15 years for Saturn to orbit from one side of the Sun to the other, Earth catches up and we see the rings at slightly different tilts. In 2017 Saturn was at Summer Solstice, when it was tilted at maximum (26.7º) towards the Sun. This allowed for the best view of the top side of the rings. Since then Saturn has been moving towards the Autumnal Equinox, which will occur in 2025, and is causing our view of the rings to recede. In 2025 Saturn rings will be almost invisible to us because they will appear on-edge. Instead of rings around Saturn, all you will see is a thin line that passes through the center of our view of Saturn. Stop in at Frosty Drew over the next several weeks and catch Saturn at best viewing for the year and be amazed at how perfect those rings look in the telescope.
Author:

Entry Date:

Jul 30, 2021

Published Under: