Celebration of Space - October 6, 2023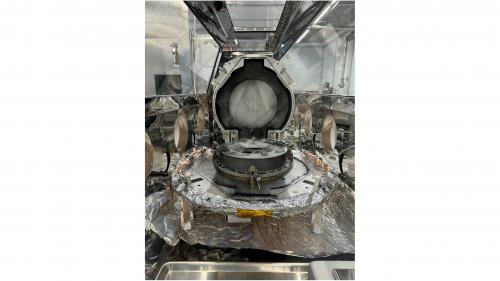 The OSIRIS-REx sample return capsule.
This coming Wednesday, October 11, 2023 at 11:00 am, NASA will host the unveiling of the sample captured from asteroid 101955 Bennu, which the OSIRIS-REx spacecraft dropped off in the Utah dessert a couple of weeks ago. The sample was collected on October 20, 2020, when the OSIRIS-REx spacecraft performed a touch-and-go maneuver with Bennu. The result was a capture of 60 grams of asteroid debris. Tune into NASA TV on Wednesday to find out what was returned from the asteroid: https://www.nasa.gov/nasatv. Catch up on the history of the OSIRIS-REx mission in our September 22nd edition of A Celebration of Space.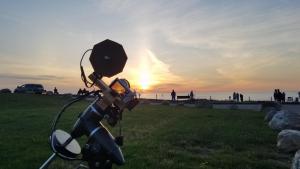 This weekend marks one week's time until the Annular Solar Eclipse occurs over the Americas. The eclipse will occur on Saturday, October 14, 2023, and will be visible in Southern New England as a partial eclipse. As of now, weather for our region looks the same as every weekend has been for over a month's time – dismal. But a predicting weather for over a week away is just not realistic for your average New England forecast. The Frosty Drew Observatory and Science Center is hosting an event for the eclipse which will bring the buzz of solar telescopes, live streams, presentations, and more to our campus for the day. Even though we will only experience a 19.11% partial eclipse, it will still be a fantastic view to be had, especially since the Sun is closing in on Solar Maximum – the period of the 11 year solar cycle with maximum sunspot activity. So keep your fingers crossed for a break from the weather bomb of 2023 so we can enjoy an autumn Saturday out under the Sun, Learn more about our event.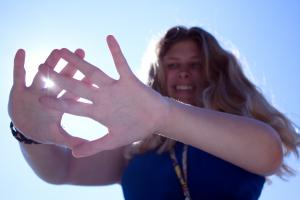 On the Frosty Drew YouTube, we have a series called A Frosty Drew Light Minute, which presents popular topics about astronomy, telescopes, and science. This week we released a new episode about old Eclipse Glasses, and how you can test them to see if they are still safe to use. A lot of people probably have Eclipse Glasses left over from the August 2017 Great American Solar Eclipse, and if they have been stored properly, they are likely still usable. So take a few minutes to learn about how you can test your old Eclipse Glasses.
After a couple of weeks of amazing evening passes of the International Space Station (ISS), and China's National Space Administration Tiangong station, the passes are coming to an end. First will be the ISS, which will wrap up evening passes tonight for the current viewing cycle. Next will be Tiangong, which will stick around for most of the week, and end evening passes on Thursday, October 12th. Regardless, evening passes will pick back up in mid-November. Here are the last passes of the stations for the next several weeks:
ISS:
Fri, Oct 6 at 6:44 pm, starting in the WNW, rising to 25°, heading towards the SSE.
Tiangong:
Fri, Oct 6 at 6:48 pm, starting in the W, passing overhead, heading towards the E ← Awesome pass!
Sat, Oct 7 at 7:22 pm, starting in th eW, rising to 74°, heading towards the ESE, and into orbital sunset ← Awesome pass!
Sun, Oct 8 at 7:56 pm, starting in the W, rising to 36°, and into orbital sunset.
Mon, Oct 9 at 6:53 pm, starting in the W, rising to 57°, heading towards the ESE ← Awesome pass!
Tue, Oct 10 at 7:27 pm, starting in the W, rising to 25°, heading towards the SSE, and into orbital sunset
Thu, Oct 12 at 6:58 om, starting in the WSW, rising to 17°, heading towards the SSE.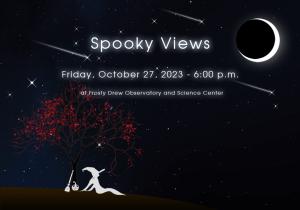 Save the Date:
Friday, October 27, 2023, from 6:00 pm – 10:00 pm
Frosty Drew Observatory and Science Center will host our annual Spooky Views – A Halloween Stargazing Experience. The event brings creepy décor, candy, frightful sounds, candy, the War of the Worlds, candy, and all things Halloween to our campus. It is certainly not a night to miss and it happens regardless of weather. Registration for the event is open and tickets are going. So put this event on your calendar and register for a fun night of seasonal freak outs under the stars. Visit the event page to learn more.
Author:

Entry Date:

Oct 6, 2023

Published Under: